1969 Chevelle Exterior Paint Codes - (Canada Paint Chart)
[ 1964 ] | [ 1965 ] | [ 1966 ] | [ 1967 ] | [ 1968 ] | [ 1969 ] | [ 1970 ] | [ 1971 ] | [ 1972 ]
It should be noted up front that there are no known numbers for any particular color whether it be a solid color or two tone. There are also no known numbers for the different colors of convertible or vinyl tops. So just how many red Chevelles (or any other color) were built is not known and cannot even be calculated.
Notes:
(1) Only available with SS option and coded appropriately on the trim tag as 72 or 76. When special ordered on a NON-SS optioned car, the paint code would show - - (two dash characters unless vinyl top was ordered as well), blank, or the OEM paint supplier's mixing code will be shown. Some GM documentation calls the color Monaco Orange while others call it Hugger Orange. The PPG color chip chart lists it as Hugger Orange under Chevrolet except the Corvette section which is listed as Monaco Orange; both carry the same PPG paint code 2084. For consistency on this site paint code 72 will be referred to as Monaco Orange when referring to the 1969 Chevelle as that is how the color is best known; interesting that at least one Baltimore window sticker used the name Hugger Orange. Both colors were a $42.15 option when ordered with the SS 396 equipment package.
(2) Both sales names of "Frost Green" and "Frost Lime" have been found on various GM documents.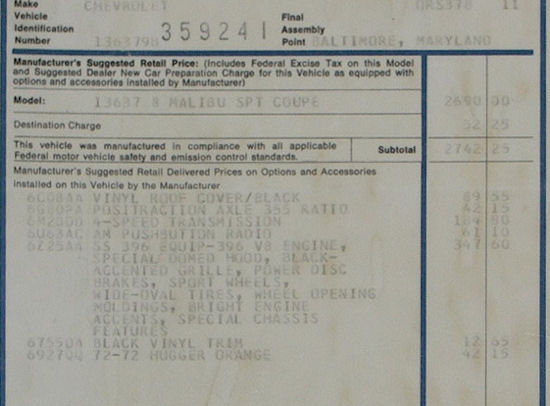 The 1968 Camaro was marketed as "The Hugger" for its handling characteristics. When the orange color was introduced as a factory color in 1969 the Camaro's sales name was called "Hugger Orange" where the Corvette was "Monaco Orange."
Both Monaco/Hugger Orange and Daytona Yellow could be ordered on any non-SS Chevelle but the trim tag would reflect the paint code section with either a blank area, dash character ( - ) or the DuPont mixing formula depending on the particular assembly plant's standard operating procedure. A vinyl of convertible top color would be noted with the appropriate letter if applicable just as a normal color selection would be. Special order paint had to be approved by the Fleet & Special Order section of Chevrolet. Special order paint could be any color available by any automotive paint manufacturer except Cadillac Firemist colors due to the coarseness of the metallic in the paint and, supposedly, Corvette exclusive colors.
See my GM A-Body Special Paint Information page for more information on special paint colors.
* Interesting to note that even though the paint codes on the trim tag changed to numbers from letters, factory invoices still used letters to identify the paint color of the more 'standard' colors like 'CC' for white, 'RR' for red, etc.
The lower body panel on Malibus for Argent Silver is DuPont mixing formula 927-95905 or 41253, Ditzler (PPG) color number is DE-8568.
Special paint trim tags show a dash character(s) or blank area on Baltimore tags. Two have been brought to our attention, both with 06D body dates as it turns out. One purported to be Monaco/Hugger Orange (72) has a code of B1357 just after the body date and another purported to be Rallye Green (79) and a code of 1699. These codes are found just after the date code on the bottom line and not in the typical paint code area.
Two-Tone
Lower
Upper





51/53 (9??ED) ~ Dusk Blue / Glacier Blue






53/50 (924DC) ~ Glacier Blue / Dover White



53/51 (9??DE) ~ Glacier Blue / Dusk Blue



55/50 (958KC) ~ Azure Turquoise / Dover White






61/63 (959SM) ~ Burnished Brown / Champagne




65/50 (957GC) ~ Olympic Gold / Dover White
It should be noted the double-letter codes below are ordering codes. Where applicable on the Fisher Body number plate a single letter is used.
| | |
| --- | --- |
| COLOR | CONVERTIBLE TOP CODE ~ COLOR |
| | A ~ White (RPO C05AA) |
| | B ~ Black (RPO C05BB) |
| | |
| --- | --- |
| COLOR | VINYL TOP CODE ~ COLOR |
| | B ~ Black (RPO C08BB) |
| | E ~ Parchment (RPO C08EE) |
| | C ~ Dark Blue (RPO C08CC) |
| | F ~ Dark Brown (RPO C08FF) |
| | G or S ~ Midnight Green (RPO C08GG) |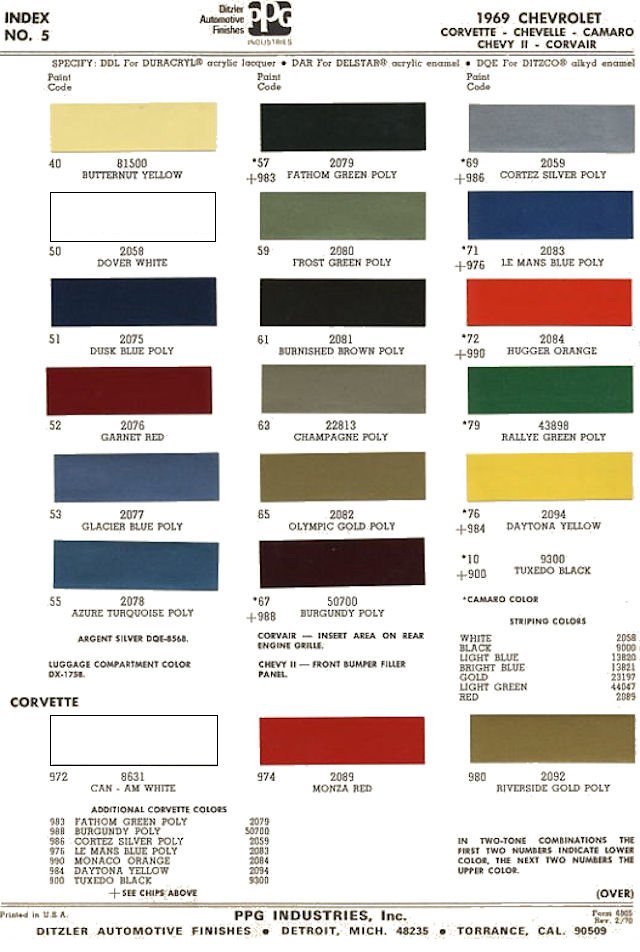 ---
General Motors of Canada, LTD. offered many of the same colors as their U.S. counterpart. Although these colors are listed as 1969 General Motors Buick-Chev-Olds-Pontiac - Canadian & U.S. Production on the paint code chart, it's unknown if these additional colors were available on Chevelles as well. Several Canadian colors were identical to U.S. colors, only the sales names were a bit different.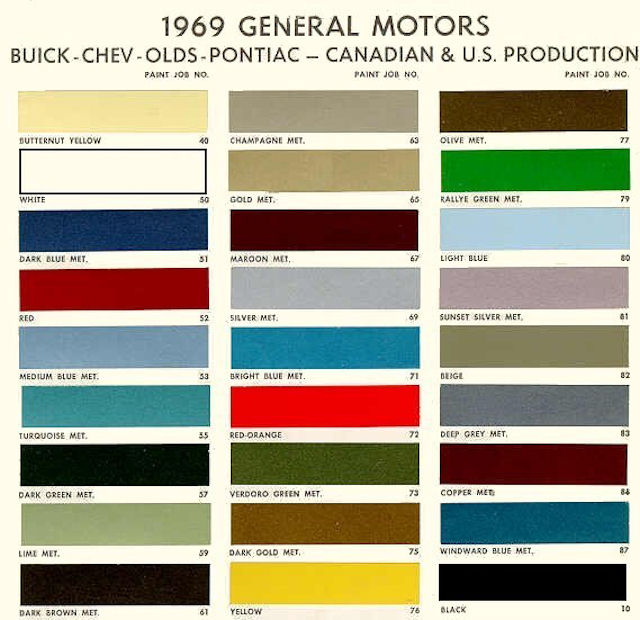 ---
Color vs. Sales Name
Paint color names often differ from the advertised Sales Name. One example might be where the factory paint color is simply RED but the sales name may be BOLERO RED or CRANBERRY RED. Yes, the paint mixing formulas are different between BOLERO RED and CRANBERRY RED but to the factory it was still just red. In a case where their may be two or more hues of a color with sales names such as DEEPWATER BLUE, NANTUCKET BLUE, and MARINA BLUE, the factory colors are simply shown as MEDIUM BLUE, DARK BLUE, or BRIGHT BLUE. A given paint color for a year may have a different sales name for Chevrolet than it does for say Buick, Oldsmobile, or Pontiac. An example of this is the 1969 sales name for Chevrolet of HUGGER/MONACO ORANGE is the same color as the 1969/1970 Pontiac sales name of CAROUSEL RED. Same color, same OEM supplier mixing formula, just different sales names for the two GM divisions.