Added TH350/TH400 transmission gears to SpeedoGears
Added Lamps/Bulbs/Fuses/Circuit Breaker information on 1970 1970/misc/bulbs-fuses.htm
June 2017
Added slide shows for every year on that year's landing page with paint code letter/number and Sales Name
August 2016
My new book, Chevelle Data and ID Guide for 1964-1972 Chevelles. A pocket size book (approx. 5 x 8) with tons of facts, production numbers, option codes, etc. Available now to order from most Chevelle aftermarket parts suppliers, Amazon, Barnes & Noble, etc. A signed copy can be purchased from my ChevelleCD.net website.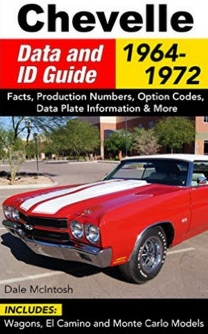 ---
My second book, 1970 Chevelle SS In Detail, is available now to order from most Chevelle aftermarket parts suppliers, Amazon, Barnes & Noble, etc. A signed copy can be purchased from my ChevelleCD.net website.
---
Third book, The Definitive Chevelle SS Guide 1964-1972, is available on Amazon.com as well as signed copies on my ChevelleCD.net website.
---
A fourth book is being written now and is co-authored with Rick Nelson of MuscleCar Restoration & Design. Plans are completion by April 2018 and hopefully release by Mid-February 2019. Details here.
---
April 11, 2015
Added trivia information for 1968 and 1972 Chevelles concerning vinyl tops
January 5, 2015
Added drive shaft stripe colors for 1971 and 1972 model years.
Added front & rear spring charts for 1966 thru 1972 model years.
December 10, 2014
Released for sale:
1970 SS396/SS454 Build Sheet Decoder information for Atlanta, Baltimore, and Kansas City assembly plants.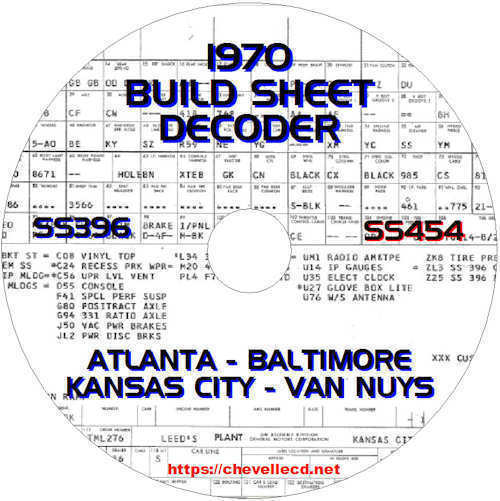 October 2014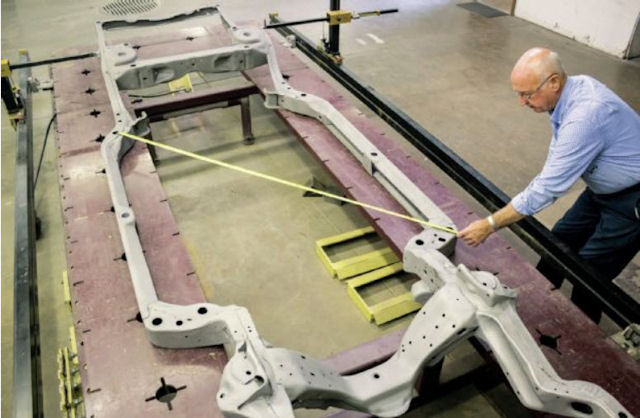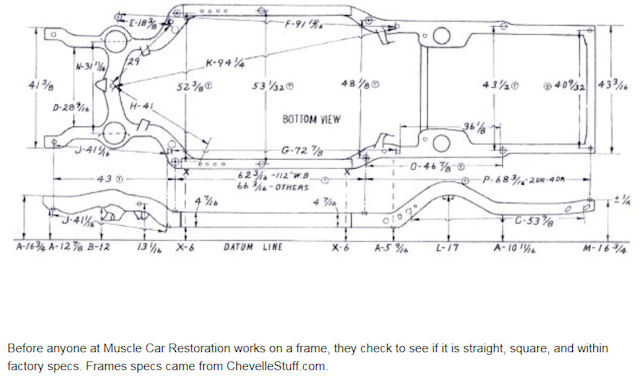 ChevelleStuff is mentioned in the October 2014 issue of Car Craft.
June 24, 2014
Added Dealer Zone, Dealer Number, and Dealer Name for all Chevelles.
September 8, 2013
Chevelle Registry website created for 1964 to 1972 Chevelles not fitting into one of the specialty registries.
September 2, 2013
Added Calendar Year Weeks for each year 1964 through 1972
August 4, 2013
Nomad Registry - website created for 1955, 1956, and 1957 Chevrolet Bel Air Nomad Station Wagon

October 28, 2011
Beginning series on Chevelle Body Moldings; found under year -> Miscellaneous -> Trim and Moldings.
October 10, 2011
Added details on trim tags to all years
August 5, 2011
Added various Chevelle Registry links to main menu.
November 28, 2010
Track what additions, changes, and deletions have been made to the ChevelleStuff.Net website.
May 12, 2009
YF3 Registry website created for 1971 & 1972 YF3 optioned Heavy Chevy Chevelles.
April 14, 2009
L78 Registry website created for 1966 through 1970 L78 optioned Chevelles.
April 12, 2009
Exhaust Manifold Castings added to Quick Decoding section.
April 2, 2009
LS5 Registry website created for 1970, 1971, & 1972 LS5 equipped Chevelles.
January 14, 2009
L79 Registry website created for all 1965 through 1968 L79 optioned Chevelle, Chevy II & Corvette.
September 24, 2008
Correspondence with Vintage Vehicle Services concerning documentation on Canadian Chevelles.
September 23, 2008
A new section on procedures for various states as to how they handle a missing VIN plate and how to obtain a new VIN. See Various state procedures to obtain a new VIN.
June 15, 2008
New, lower pricing is now in effect for the Chevelle Reference CDs. Both the media version (now $29.95) and the downloadable .ZIP file version ($24.95) have been reduced. Visit ChevelleCD.Net for a test drive of the 1966/1967 Chevelle Reference CD.
March 21, 2008
For those of you that have been with ChevelleStuff.Net for any length of time, you'll immediately notice the change in format. Probably 90% or better of the data from the old site has been converted to the new format. If you find any broken links I missed please let me know.
December 27, 2007
Due to numerous requests, a 1970 Chevelle Reference CD is in the works. Contributors of information welcomed, no matter how obscure or how well known you think it might be someone out there can surely benefit. Contact me with any information you are willing to contribute.
November 1, 2007
Oklahoma has passed legislation making it illegal to tamper with any Fisher Body Number plate (a.k.a., trim tag, cowl tag) on any vehicle from 1953 to 1977 or swap tags on these vehicles. Full details on ChevelleStuff.Net here or visit the Oklahoma State Court Network
Chevelle Notes
In late 1968, Atlanta, Baltimore, and Van Nuys Chevrolet/Fisher Body assembly plants were transferred to General Motors Assembly Division (GMAD). In 1969, Flint, Kansas City, and Framingham made the same move.