1968 Chevelle Exterior Paint Codes - (Canada Chart)
[ 1964 ] | [ 1965 ] | [ 1966 ] | [ 1967 ] | [ 1968 ] | [ 1969 ] | [ 1970 ] | [ 1971 ] | [ 1972 ]
It should be noted up front that there are no known numbers for any particular color for a particular series or body syle whether it be a solid color or two tone. There are also no known numbers for the different colors of convertible or vinyl tops. So just how many red (or any color) SS396 sport coupes (or any other series) were built is not known and cannot even be calculated. There were no special SS396 paint colors.
1968 COLORS

PAINT CODE / SALES NAME
Color
LUCITE
RINSHED-MASON
DITZLER
A ~ Tuxedo Black - El Camino
Black ~ 6,132
88
A-946
9300
C ~ Ermine White - El Camino
White ~ 41,434
4024-L
A-1199
8259
D ~ Grotto Blue - El Camino
Medium Blue ~ 46,218
4892-L
A-1985
13512
E ~ Fathom Blue - El Camino
Dark Blue ~ 10,819
4899-L
A-1992
13513
F ~ Island Teal - El Camino
Medium Teal ~ 21,682
4904-L
A-1994
610 13514
G ~ Ash Gold - El Camino
Ivory Gold ~ 80,812
4896-L
A-1988
22942
H ~ Grecian Green - El Camino
Medium Green ~ 35,436
4902-L
A-1995
43775
K ~ Tripoli Turquoise - El Camino
Turquoise ~ 29,146
4900-L
A-1993
13517
L ~ Teal Blue - El Camino
Dark Teal ~ 19,968
4893-L
A-1986
13516
N ~ Cordovan Maroon - El Camino
Maroon ~ 16,811
4915-LH
A-1999M
50775
P ~ Seafrost Green - El Camino
Silver Green ~ 22,419
4897-L
A-1989
43774
R ~ Matador Red - El Camino
Red ~ 37,000
4948-LH
A-1997R
71634
T ~ Palomino Ivory - El Camino
Ivory ~ 25,521
4895-L
A-1987
81617
V ~ Sequoia Green - El Camino
Dark Green ~ 16,142
4898-L
A-1990
43773
Y ~ Butternut Yellow - El Camino
Yellow ~ 33,167
4620-L
A-1715
81500
Special paint trim tags show a the dash character or the letter "O" on Kansas City tags; Fremont used the dash character as well. Other plants are unknown at this time.
See my GM A-Body Special Paint Information page for more information on special paint colors.
Two-Tone
Lower
Upper



DC ~ Grotto Blue / Ermine White
5,186 ~ Malibu, 131-132xx, and 133-134xx.



DE ~ Grotto Blue / Fathom Blue
664 ~ Malibu, 131-132xx, and 133-134xx.



ED ~ Fathom Blue / Grotto Blue
332 ~ Malibu, 131-132xx, and 133-134xx.

(950)



GT ~ Ash Gold / Palomino Ivory
8,917 ~ SS396, Malibu, 131-132xx, and 133-134xx.




KC ~ Tripoli Turquoise / Ermine White
none reported ~ SS396




LF ~ Teal Blue / Island Teal
1,502 ~ SS396, Malibu

It should be noted the double-letter codes below are ordering codes. Where applicable on the Fisher Body number plate a single number is used.
| | |
| --- | --- |
| COLOR | CONVERTIBLE TOP CODE ~ COLOR |
| | 1 ~ White (Std. C05AA) |
| | 2 ~ Black (RPO C05BB) |
| | 4 ~ Blue * |
| | |
| --- | --- |
| COLOR | VINYL TOP CODE ~ COLOR |
| | 1 or 6 ~ White (Std. C08AA) |
| | 2 ~ Black (RPO C08BB) |
* Correspondence with a fellow enthusiast in September of 2009 about the Medium Blue convertible top has revealed this interesting tidbit of information.
- I tracked down Kimmy at Eletrontop in New York, 800-221-4476. I sent her the photos that you sent me and she immediately said without any hesitation, "OH, that is GM medium blue." She went on to say that this was discontinued 10 years ago. She said that the original Haartz material number was S71358ZDT. This number was replaced many years ago by Haartz #2750045A (this number was discontinued 10 years ago). She was very knowledgeable and quick to be helpful.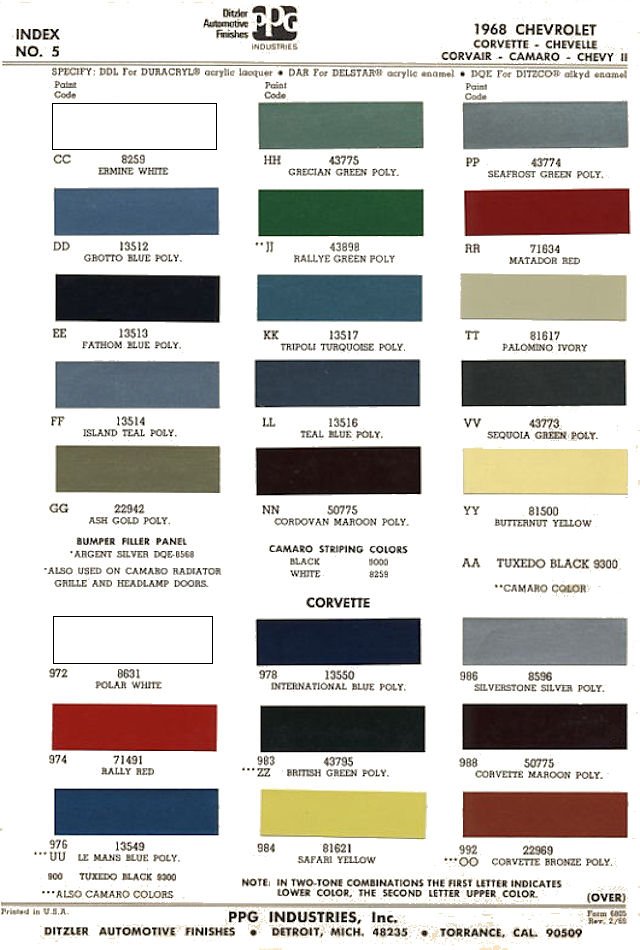 ---
General Motors of Canada, LTD. offered many of the same colors as their U.S. counterpart. Although these colors are listed as 1968 General Motors Passenger Colors - Canadian & U.S. Production on the paint code chart, it's unknown if these additional colors were available on Chevelles as well. Several Canadian colors were identical to U.S. colors, only the sales names were a bit different. If there is a prefix #9 on the Fisher Body Number plate, the color is done in enamel instead of lacquer.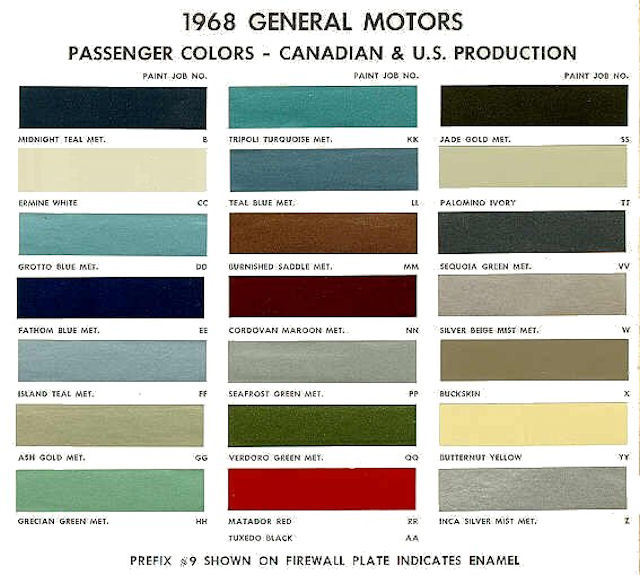 ---
Color vs. Sales Name
Paint color names often differ from the advertised Sales Name. One example might be where the factory paint color is simply RED but the sales name may be BOLERO RED or CRANBERRY RED. Yes, the paint mixing formulas are different between BOLERO RED and CRANBERRY RED but to the factory it was still just red. In a case where their may be two or more hues of a color with sales names such as DEEPWATER BLUE, NANTUCKET BLUE, and MARINA BLUE, the factory colors are simply shown as MEDIUM BLUE, DARK BLUE, or BRIGHT BLUE. A given paint color for a year may have a different sales name for Chevrolet than it does for say Buick, Oldsmobile, or Pontiac. An example of this is the 1969 sales name for Chevrolet of HUGGER/MONACO ORANGE is the same color as the 1969/1970 Pontiac sales name of CAROUSEL RED. Same color, same OEM supplier mixing formula, just different sales names for the two GM divisions.