1966 Chevelle Exterior Paint Codes - (Canada Paint Chart)
[ 1964 ] | [ 1965 ] | [ 1966 ] | [ 1967 ] | [ 1968 ] | [ 1969 ] | [ 1970 ] | [ 1971 ] | [ 1972 ]
It should be noted up front that there are no known numbers for any particular color for a particular series or body syle whether it be a solid color or two tone. There are also no known numbers for the different colors of convertible or vinyl tops. So just how many red (or any color) SS396 sport coupes (or any other series) were built is not known and cannot even be calculated. There were no special SS396 paint colors.
1966 COLORS

PAINT CODE / SALES NAME
Color

LUCITE
RINSHED-MASON
DITZLER
A ~ Tuxedo Black - El Camino
Black ~ 9,844
88-L
A-946
DDL-9300
C ~ Ermine White - El Camino
White ~ 62,900
4024-L
A-1199
DDL-8259
D ~ Mist Blue - El Camino
Medium Blue ~ 50,530
4630-L
A-1720
DDL-13042
E ~ Danube Blue - El Camino
Dark Blue ~ 16,889
4631-L
A-1721
DDL-13002
F ~ Marina Blue - El Camino
Bright Blue ~ 51,911
4704-L
A-1823
DDL-13148
H ~ Willow Green - El Camino
Medium Green ~ 14,269
4633-L
A-1716
DDL-43391
K ~ Artesian Turquoise - El Camino
Medium Turquoise ~ 33,328
4628-L
A-1718
DDL-43364
L ~ Tropic Turquoise - El Camino
Dark Turquoise ~ 15,235
4703-L
A-1816
DDL-43496
M ~ Aztec Bronze - El Camino
Bronze ~ 28,719
4707-L
A-1817R
DDL-71525
N ~ Madeira Maroon - El Camino
Maroon ~ 25,383
4624-LH
A-1711M
DDL-50700
R ~ Regal Red - El Camino
Red ~ 27,790
4625-LH
A-1712M
DDL-71472
T ~ Sandalwood Tan - El Camino
Fawn ~ 20,229
4706-L
A-1821
DDL-22660
V ~ Cameo Beige - El Camino
Beige ~ 17,119
4401-L
A-1530
DDL-22270
W ~ Chateau Slate - El Camino
Slate ~ 10,592
4708-L
A-1819
DDL-32525
Y ~ Lemonwood Yellow - El Camino
Yellow ~ 26,268
4709-L
F-1824
DDL-81528
Notes:
Any 1966 Chevelle could be ordered with any color available beyond those typically offered at the time. The means of showing a special paint order on the trim tag may vary from plant to plant. Kansas City used the number "0" to indicate special paint but other plants may have used a different means of depicting special paint. A vinyl or convertible top color would be noted with the appropriate number if applicable just as a normal color selection would be. Special order paint had to be approved by the Fleet & Special Order section of Chevrolet. Special order paint could be any color available by any automotive paint manufacturer except, supposedly, Corvette exclusive colors.
See my GM A-Body Special Paint Information page for more information on special paint colors.
| | |
| --- | --- |
| COLOR | CONVERTIBLE TOP CODE ~ COLOR |
| | 1 ~ White (Std. C05AA) |
| | 2 ~ Black (RPO C05BB) |
| | 6 ~ Beige (RPO C05AB) |
| | |
| --- | --- |
| COLOR | VINYL TOP CODE ~ COLOR |
| | 2 ~ Black (RPO C08AA) |
| | 6 ~ Beige (RPO C08AB) |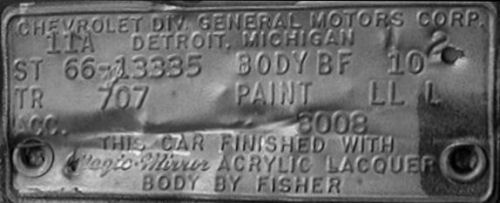 Fremont, CA. continued to use a three letter combination (third letter being wheel color) off and on until late November 1965 when the wheel color code was dropped apparently on all model tags.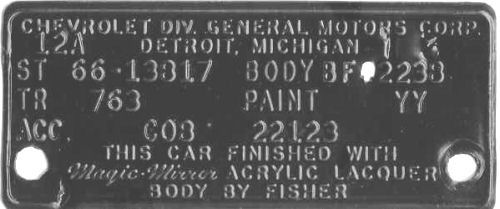 Sometime between December of 1965 and January of 1966, Fremont, CA. also changed the format of their trim tags to match other assembly plants.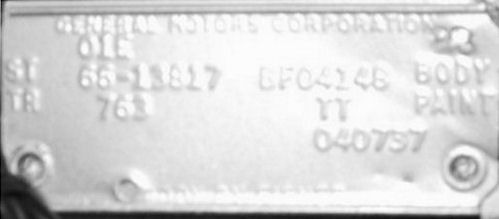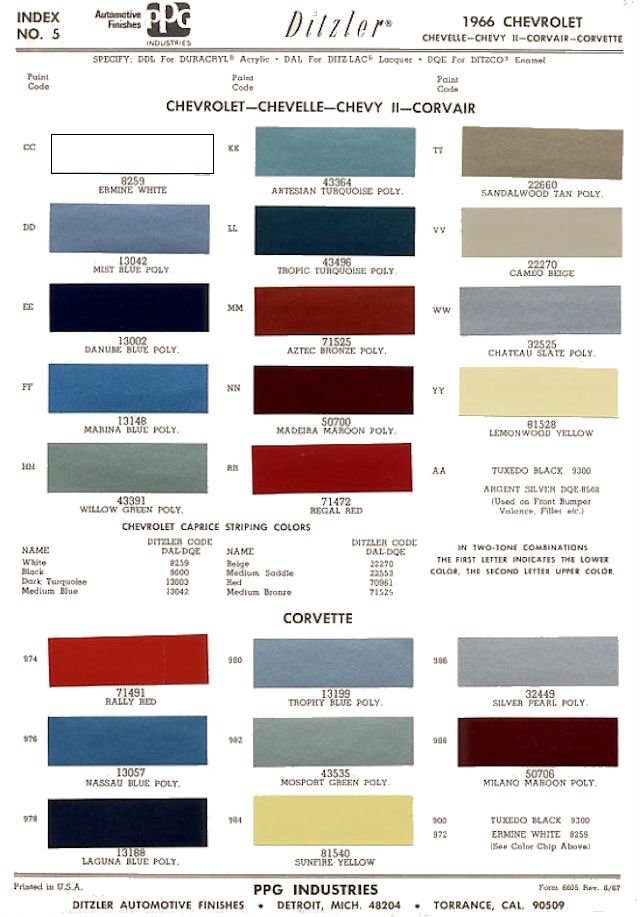 ---
GM of Canada Paint Code Chart
General Motors of Canada, LTD. offered many of the same colors as their U.S. counterpart. Although these colors are listed as 1966 Passenger Colors on the paint code charts, it's unknown if these additional colors were available on Chevelles as well. Several Canadian colors were identical to U.S. colors, only the sales names were a bit different.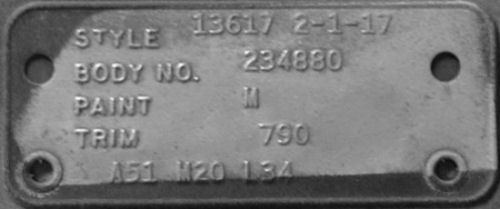 Example of 1966 Canadian Chevelle trim tag; note "M" for Aztec Bronze Metallic in enamel.
Canada also offered some different two-tone paint combinations not available in the U.S.
Code MV is one such combination found; Aztec Bronze lower with Cameo Beige upper.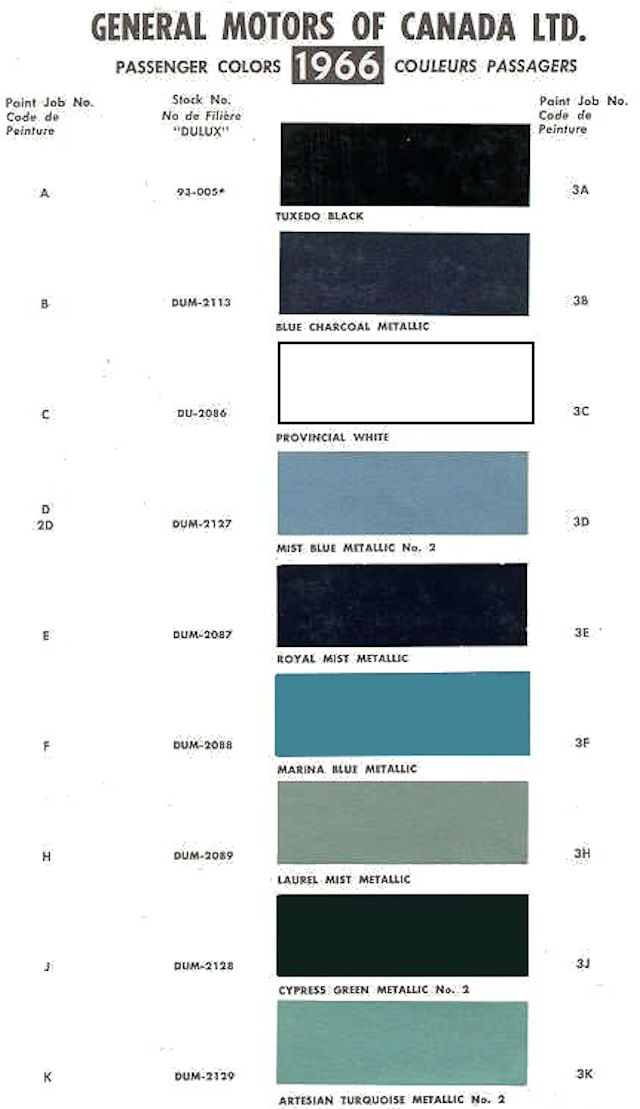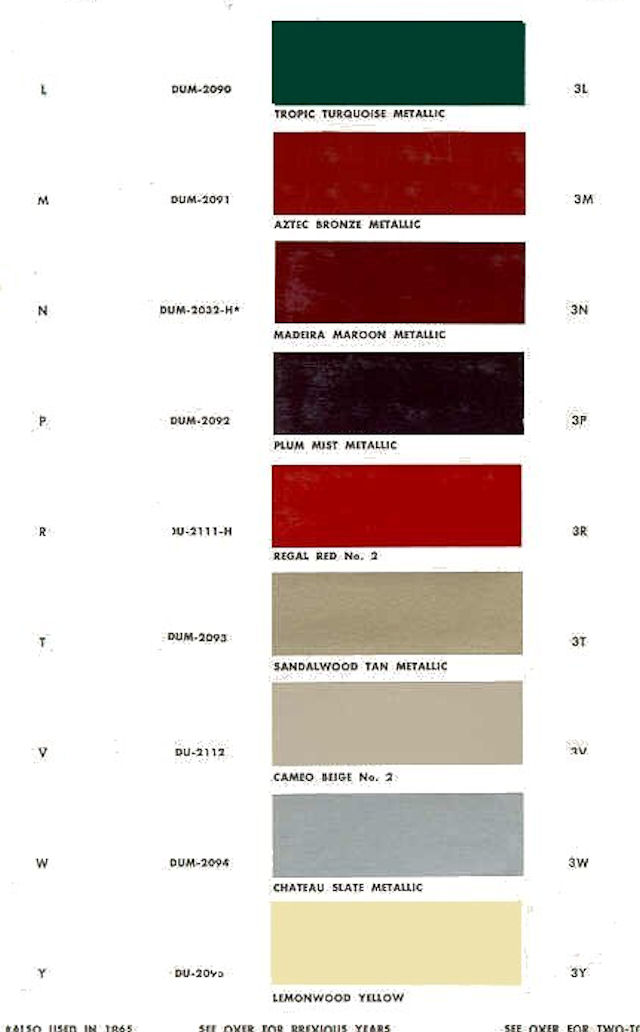 ---
Color vs. Sales Name
Paint color names often differ from the advertised Sales Name. One example might be where the factory paint color is simply RED but the sales name may be BOLERO RED or CRANBERRY RED. Yes, the paint mixing formulas are different between BOLERO RED and CRANBERRY RED but to the factory it was still just red. In a case where their may be two or more hues of a color with sales names such as DEEPWATER BLUE, NANTUCKET BLUE, and MARINA BLUE, the factory colors are simply shown as MEDIUM BLUE, DARK BLUE, or BRIGHT BLUE. A given paint color for a year may have a different sales name for Chevrolet than it does for say Buick, Oldsmobile, or Pontiac. An example of this is the 1969 sales name for Chevrolet of HUGGER/MONACO ORANGE is the same color as the 1969/1970 Pontiac sales name of CAROUSEL RED. Same color, same OEM supplier mixing formula, just different sales names for the two GM divisions.
---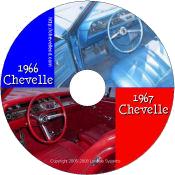 Want more in-depth information on 1966/1967 Chevelles? Take a test drive of my 1966/1967 Chevelle Reference CD.