1969 Chevelle Engine Photos & 396 cid Engine Production Numbers
[ 1965 ] | [ 1966 ] | [ 1967 ] | [ 1968 ] | [ 1969 ] | [ 1970 ] | [ 1971 ] | [ 1972 ]
A few things should be mentioned about the 1969 396/402 engines. Towards the end of the model year the 396 cid engine was increased to 402 cid. Rumors abound for the reason of the 402 cid existence. One is that Tonawanda has a lot of bare blocks rusting away and decided to bore them +0.030 to clean them up. GM wouldn't do this. It is believed this was done in preparation of 1970 (when all 396 cid engines were really 402 cid) and engines over 400 cid had lower restrictions on smog regulations.
This was the first year the SS396 was discontinued as a separate series and became an option just like air conditioning, a radio, a vinyl top, etc. This is also only year that the SS Equipment option could be ordered on anything other than a Malibu sport coupe, convertible, or pickup. The SS Equipment option was also available on the 2 300 Deluxe series body styles, the 13427 coupe (2-door post) and the 13437 sport coupe (hardtop).
Not all 396 engines went into RPO Z25 optioned Chevelles. There was also a "police package" that could be ordered with a 396 engine in a 300 Deluxe 4-door sedan body style. It's believed 323 non-SS396 optioned Chevelles were built. This figure is arrived at by subtracting the number of RPO Z25 (SS 396 Equipment) options sold from the total of the three 396 engine options.
RPO L35 = 59,786
RPO L34 = 17,358
RPO L78 = 9,486
================
Total = 86,630
RPO Z25 = 86,307
================
323 396 engines sold not accounted for via RPO Z25
There is another discrepancy in the L78 engine and L89 aluminum head option numbers vs. production numbers. According to Tonawanda numbers 8,876 L78 engines were built and 412 L89 aluminum head options were built. When the L89 option was included the suffix code on the L78 engine changed. The L78 engine totals below indicate only the iron head suffix codes yet documentation from GM indicates 9,486 L78 options were sold - a difference of 610 "missing" engines. Either the Tonawanda engine production totals are wrong or the GM reported L78 sales is wrong. I tend to believe, but cannot prove, the GM reported L78 sales figure is a typographical error and would be 8,486. Subtracting this 8,486 from the Tonawanda reported 8,876 production would leave 390 service engines which is in line with other engines. For now, I suppose we'll never know for sure.
The 1969 model year was also unique in that Yenko Chevrolet worked some GM back-door deals via the Fleet & Special Order department to obtain via Central Office Production Order (COPO) means to get 427 cid engines installed in various Camaros and Chevelles. For that reason RPO L72, the 427/425 from the passenger car line, are included here as well.
1969 396 V8 Engine Production
RPO
HP
Transmission
Suffix
Production
Notes
L35
325
Manual
JA
32,999
396 cid
L35
325
Manual
CJA
01,528
402 cid
L35/M40
325
TH-400
JK
24,771
396 cid
L35/M40
325
TH-400
CJK
01,386
402 cid
60,684
Total L35 Engines
59,786
Total L35 Cars
98.5% of total L35 engine production went into Chevelles in 1969.
00,898
Service Engines
L34
350
Manual
JC
12,454
396 cid
L34
350
Manual
CJC
00,370
402 cid
L34/M40
350
TH-400
JE
5,034
396 cid
L34/M40
350
TH-400
CJE
00,079
402 cid
17,937
Total L34 Engines
17,358
Total L34 Cars
96.8% of total L34 engine production went into Chevelles in 1969.
00,579
Service Engines
L78
375
Manual
JD
7,356
396 cid
L78
375
Manual
CJD
0,033
402 cid
L78/M40
375
TH-400
KF
1,471
396 cid
L78/M40
375
TH-400
CKF
0,016
402 cid
8,876
Total L78 Engines
9,486
Total L78 Cars
See L78/L89 notes above
-610
More cars than engines
L89
375
Manual
KG
333
396 cid
L89
375
Manual
CKG
012
402 cid
L89/M40
375
TH-400
KH
066
396 cid
L89/M40
375
TH-400
CKH
001
402 cid
412
Total L89 Engines
400
Total L89 Cars
97.1% of total L89 engine production went into Chevelles in 1969.
012
Service Engines
L72
425
Manual
MQ
277
427 cid COPO
L72/M40
425
TH-400
MP
096
427 cid COPO
373
Total COPO 427 Engines
323
Total COPO 427 Cars
86.6% of total L72 engine production went into Chevelles in 1969.
050
Service Engines
Engine ID Stampings


T0927HQ - Tonawanda, September 27 350/255 w/manual transmission.
Suspect this is for a Canadian Pontiac (GM division 7).


T1022JE - Tonawanda, October 22 396/350 w/TH400 transmission.
Partial VIN stamping for Framingham, MA.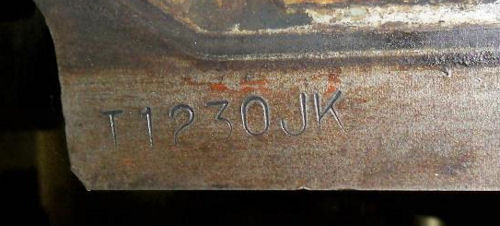 T1230JK - Tonawanda, December 30 396/325 w/TH400 transmission.


T0217JA - Tonawanda, February 17 396/325 w/manual transmission.
Courtesy Greg Wilson


T0313HB - Tonawanda, March 13 350/300 w/TH350 transmission.
Note the partially visible CON VIN on this Baltimore Chevelle engine.


T0409KF - Tonawanda, April 9 396/375 w/TH400 transmission.


T0425DD - Tonawanda, April 25 207/200 w/TH350 transmission.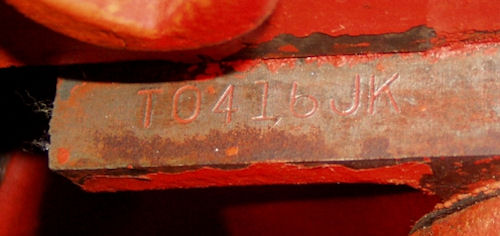 T0416JK - Tonawanda, April 16 396/325 w/TH400 transmission.


T0418JA - Tonawanda, April 18 396/325 w/manual transmission.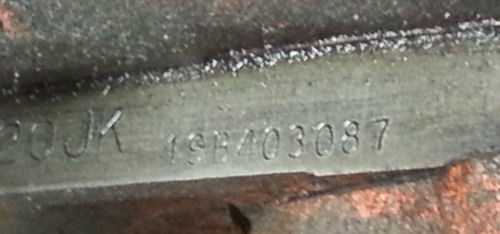 T0624JK - Tonawanda, June 24 396/325 w/TH400 transmission.
Another Baltimore stamping but this time to the right of the Tonawanda engine ID. Partial VIN stamping should not have a leading '0' stamped on a 1969 engine from Baltimore.
Atlanta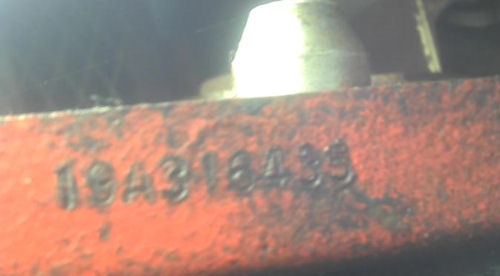 An Atlanta partial VIN stamping.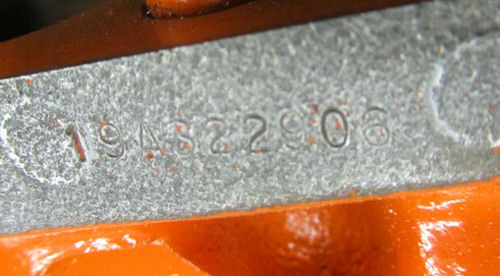 Courtesy Greg Wilson
Baltimore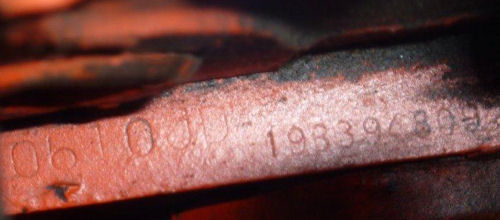 T0610JD ~ 19B394809


T0419HC ~ 19B383315 Note on a small block the Tonawanda engine stamp is on the right side of the engine pad while the VIN derivative is on the left.
Kansas City


Courtesy Dean Call
Ongoing research indicates that the Atlanta & Kansas City plants used this alternate location for 396 engines. Note this example was stamped several times.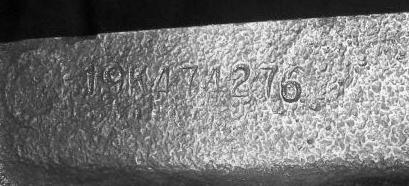 Fremont


Note leading '0' in the partial VIN stamping.
Also see this page for more.
---