1966 Chevelle Engine ID Codes - Engine Pad
[ 1964 ] | [ 1965 ] | [ 1966 ] | [ 1967 ] | [ 1968 ] | [ 1969 ] | [ 1970 ] | [ 1971 ] | [ 1972 ]
Engine

Transmission

Notes

Code
Size-Carb
HP-RPO
AA
194-1
120
Manual-3
Overdrive
AC
194-1
120
Manual-3
Heavy Duty Clutch
AG
194-1
120
Manual-3
A.C.
AH
194-1
120
Manual-3
Heavy Duty Clutch/A.C.
AL
194-1
120
Powerglide
AS
194-1
120
Manual-3
Overdrive/A.I.R.
AT
194-1
120
Manual-3
A.C./A.I.R.
230 ↓
BL
230-1
140-L26
Powerglide
A.I.R.
BM
230-1
140-L26
Powerglide
A.C./A.I.R.
BN
230-1
140-L26
Manual-3
Overdrive/A.I.R.
BO
230-1
140-L26
Manual-3
A.C./A.I.R.
CA
230-1
140-L26
Manual-3
Overdrive
CB
230-1
140-L26
Manual-3
A.C.
CC
230-1
140-L26
Powerglide
CD
230-1
140-L26
Powerglide
A.C.
283 ↓
DA
283-2
195
Manual-3
DB
283-2
195
Manual-4
DE
283-2
195
Powerglide
DG
283-4
220-L77
Manual-3/4
DH
283-4
220-L77
Powerglide
DI
283-2
195
Manual-3
Overdrive/A.I.R.
DJ
283-2
195
Powerglide
A.I.R.
DK
283-2
195
Manual-4
A.I.R.
DL
283-4
220-L77
Manual-3/4
A.I.R.
DM
283-4
220-L77
Powerglide
A.I.R.
327 ↓
EA/EAH*
327-4
275-L30
Manual-3/4
EB
327-4
275-L30
Manual-3/4
A.I.R.
EC
327-4
275-L30
Powerglide
A.I.R.
EE
327-4
275-L30
Powerglide
396 ↓
EDH*
396-4
325-L35
Manual-3/4
EF
396-4
360-L34
Manual-3/4
EG
396-4
375-L78
Manual-3/4
Holley Carb/Solid Cam
EH
396-4
325-L35
Manual-3/4
A.I.R./Rochester Carb
EJ
396-4
360-L34
Manual-3/4
A.I.R.
EKH*
396-4
325-L35
Powerglide
Holley Carb
EKR
396-4
325-L35
Powerglide
Rochester Carb
EL
396-4
360-L34
Powerglide
EM
396-4
325-L35
Powerglide
A.I.R./Rochester Carb
EN
396-4
360-L34
Powerglide
A.I.R.
327 n/a ↓
EP**
327-4
350-L79
H.D. 3-speed or 4-speed
ER**
327-4
350-L79
H.D. 3-speed or 4-speed
A.I.R.
ES**
327-4
350-L79
H.D. 3-speed or 4-speed
A total of 116,551 6-cyl engines were installed; 49,608 194cid and 66,943 230cid engines.
A total of 330,813 8-cyl engines were installed; 209,338 283cid, 46,230 327cid, and 75,245 396cid engines.
There is no breakdown of engine type or size by specific series/model other than 6-cyl. vs. 8-cyl.
The 396 8-cyl engine was only available in the 13817/67 SS396 and 134/13680 El Camino.
The L35 396 cid 8-cyl engine was the base, or standard, engine in the SS396. GM reports 1,865 L35 engines ordered as options and these would have been installed in the El Camino series.
There were 3,099 375hp L78 engines installed in 1966 Super Sports and El Caminos. The L78 engine option was canceled early in 1965 and reinstated October 7, 1965. Many early Chevrolet publication materials, such as this page from an early training program booklet also listed this engine at 425hp and, oddly, the L34 (360hp) engine does not show a horsepower rating at all.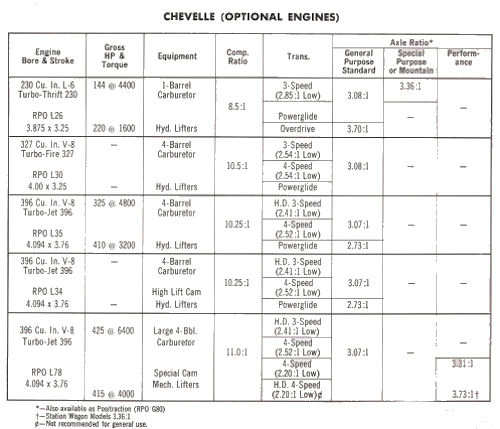 * Engine blocks may be stamped with "EK" or may be stamped with "EKH" suffix noting Holley (H) carburetor.
** Chevrolet production records show this engine in production as early as February 7, 1966 and release date in late February or early March. However, 1966 Chevrolet RPO Production Numbers show no indication of this engine being sold.
Camshaft Specifications

1967 saw the first year the 396 V8 camshaft abandoned the grooved rear journal and matching bearing in the engine block in favor of a smooth journal like the 283/327 V8. Any camshaft from a 1965 or 1966 396 engine can be used in a 1967 or later block but not the other way around. This groove is clearly visible in this photo on the camshaft on the left.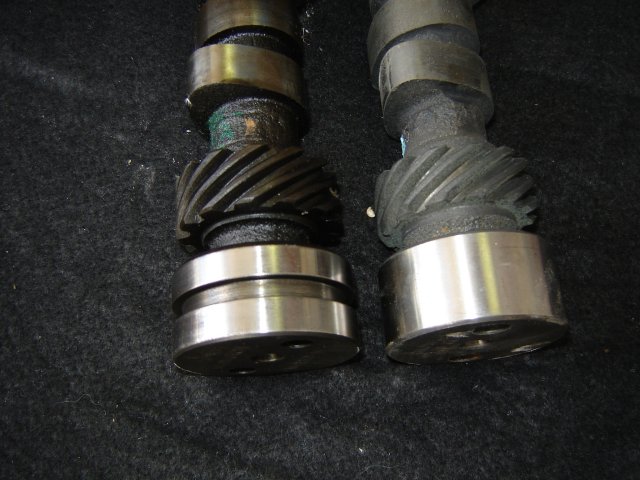 Photo courtesy Bruce Testor
Note the oil groove in rear cam journal of this 396 V8 camshaft on the left. Both 1965 and 1966 396 V8 engines require this groove along with corresponding rear cam bearing. Most aftermarket camshaft manufacturers DO NOT list the 65/66 396 V8 in their catalogs due to this groove. However, any later camshaft will work if grooved and most aftermarket cam suppliers will either groove the cam for a nominal fee or send you the specifications so you can have your local machine shop perform the operation.

---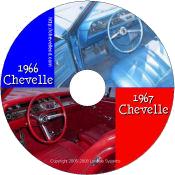 Want more in-depth information on 1966/1967 Chevelles? Take a test drive of my 1966/1967 Chevelle Reference CD.