1966 Chevelle Vehicle Identification Number Plate
[ 1964 ] | [ 1965 ] | [ 1966 ] | [ 1967 ] | [ 1968 ] | [ 1969 ] | [ 1970 ] | [ 1971 ] | [ 1972 ]
| | |
| --- | --- |
| United States | Canada |
1966 VIN Breakdown (U.S.)
Do not confuse the Vehicle Identification Number plate information with that found on the Fisher Body Number plate (trim tag). The series depiction on the VIN plate does NOT have the meaning as the Fisher Body Number plate.
The Vehicle Identification Number plate (VIN) has similar information to the trim tag such as the model, year, and assembly plant. One difference is the last six numbers relating to the assembly plant sequence as opposed to the trim tag's Fisher Body sequence and the series will designate a 6-cyl (odd 3rd digit) or V8 (even 3rd digit).
A typical 1966 U.S. built Chevelle VIN might read: 138176Z149695 being an SS396 2-door sport coupe assembled in Fremont, CA. DD was initially to be used by dealers for "Delivery Date" but few were stamped. The example above is stamped 6 66. Why more were not stamped is simply speculation. Maybe dealers simply opted to not stamp it since the dealer paperwork would show delivery date or maybe they found their new car prep personnel were stamping them too hard and damaging them. Whatever the reason, few were stamped as should not be a concern. The VIN plate was riveted to the A-pillar on the driver side with unique 'rosette' rivets.
First Character: Division of General Motors
1 ~ Chevrolet
Second and Third Character: Series Designation *
31 ~ Chevelle 300, 6-cylinder
32 ~ Chevelle 300, 8-cylinder
33 ~ 300 Deluxe, 6-cylinder
34 ~ 300 Deluxe, 8-cylinder
35 ~ Malibu, 6-cylinder
36 ~ Malibu, 8-cylinder
38 ~ SS396, 8-cylinder
Fourth and Fifth Character: Body Style/Model
11 ~ 2-door sedan
17 ~ 2-door sport coupe
35 ~ 4-door station wagon, 2-seat
39 ~ 4-door sport sedan
67 ~ 2-door convertible
69 ~ 4-door sedan
80 ~ 2-door sedan pickup
Sixth Character: Year of Production
6 ~ 1966

Seventh Character: Final Assembly Plant
A ~ Atlanta, Georgia
B ~ Baltimore, Maryland
G ~ Framingham, Massachusetts
F ~ Flint, Michigan
K ~ Kansas City, Missouri
Z ~ Fremont, California
Eighth through Thirteenth Digits: Sequential Production Number
The sequential starting number for the 1966 Chevelle was 100001 at all U.S. Chevelle assembly plants. Each assembly plant sequenced Chevelles of all series/models without regard to specific series/models. For example, if a series 13435 station wagon followed a 13667 Malibu convertible, the sequence number would be one unit higher for the wagon. It's also entirely possible to have the same sequence number from all six 1966 U.S. assembly plants with the only difference between the VINs being the plant code.
Production at the Kansas City plant exceeded 100,000 units sometime in early June so the VIN sequence from that time frame to the end of production would be 2nnnnn for the Kansas City plant.
* The El Camino is not a separate series nameplate but rather a body style in both the 300 Deluxe (33/34) and Malibu (35/36) series although it's often listed as such. The base (33/34) El Camino Deluxe is a 2-dr sedan pickup body style with 300 Deluxe trim where the (35/36) El Camino Custom is a 2-dr sedan pickup body style with Malibu trim. The SS396 series Chevelles sport coupe and convertible (13817 and 13867) were the only two models to come standard with the 396 V8 engine and only the 134/136 series El Caminos could optionally order a 396 V8 engine. The 396 V8 engine could NOT be ordered in any other series or body style other than the SS396 sport coupe or convertible or the 134/136 series El Camino.
Typical Canadian Chassis Serial Plate

The Oshawa, ON. assembly plant had a different schema with their VIN (or Chassis Serial) plate than the U.S. counterpart. The 1966 model year was the last year for these differences.
Example:
First Character: Model Year (6)
Second, Third and Fourth Characters: Division/Series Designation - Chevrolet, V8 300 (132)
Fifth and Sixth Characters: Body Style/Model - convertible (67)
Seventh through Twelfth Digits: Sequential Production Number beginning with 000001 (003489)
Notes:
One source reports there were no Chevelle 300 Deluxe series (133/134) Chevelles for Canada in 1966, only the Chevelle 300 (131/132) and the Malibu (135/136) series while other sources indicate the 300 Deluxe series was made in Canada in 1966. A couple of series & body styles were offered in Canada that were not available in the U.S. There was a 131/13267 Chevelle 300 convertible and 131/13235 station wagon. Another unique offering in Canada was the Malibu SS for 1966. See the Canadian-built Chevelles page for more information.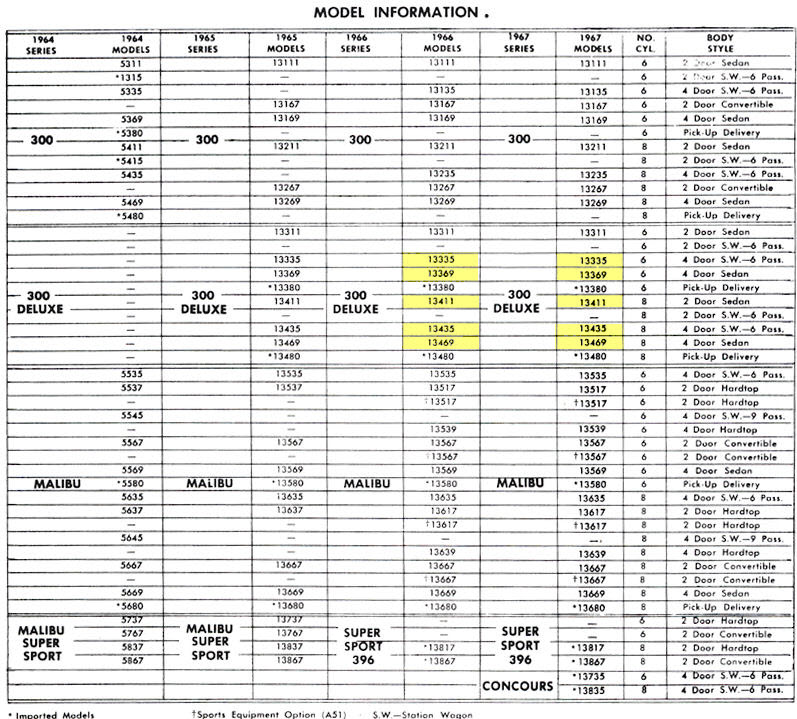 Excerpt from Canadian 1964-74 Chevelle & Monte Carlo Master Parts Catalogue.
VIN plate location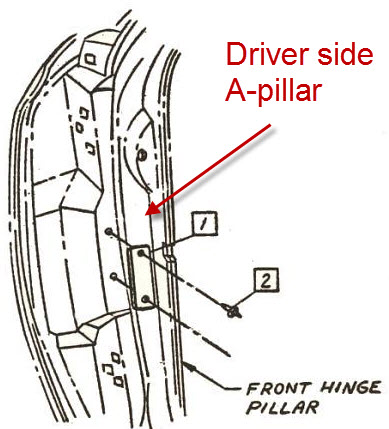 1964-1967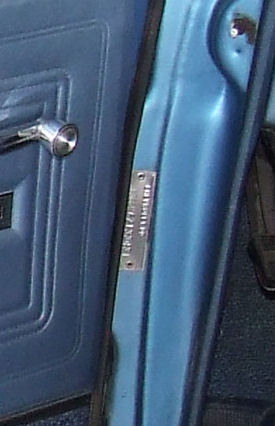 1966 Chevelle VIN plates used special rivets.
1966 VIN Assembly Plant Codes
Letter Code
Assembly Plant
Series *
A
Atlanta, Georgia
1, 4
B
Baltimore, Maryland
4 **
C
Southgate, California
1
D
Atlanta, Georgia (Doraville)
1
F
Flint, Michigan
1, 4
G
Framingham, Massachusetts
1, 4
J
Janesville, Wisconsin
1
K
Kansas City, Missouri
4 **
L
Los Angeles, California (Van Nuys)
1
N
Norwood, Ohio
1, 3
R
Arlington, Texas
1
S
St. Louis, Missouri
1, 2
T
Tarrytown, New York
1
U
Lordstown, Ohio
1 (after April)
W
Willow Run, Michigan
3
Y
Wilmington, Delaware
1
Z
Fremont, California
4 **
0
Oshawa, Canada
1, 3, 4
* 1-Passenger; 2-Corvette; 3-Chevy II; 4-Chevelle
** Included El Camino
1966 Chevrolet VIN Sequence Numbers
| | | |
| --- | --- | --- |
| Series | Begin Sequence | Plant |
| Passenger | 100001 | All |
| Corvette | 100001 | St. Louis |
| Chevy II | 100001 | All |
| Chevelle | 100001 | All |
---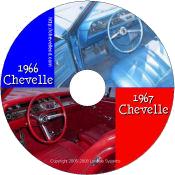 Want more in-depth information on 1966/1967 Chevelles? Take a test drive of my 1966/1967 Chevelle Reference CD.