1970 Chevelle Build Sheet Examples
[ 1964 ] | [ 1965 ] | [ 1966 ] | [ 1967 ] | [ 1968 ] | [ 1969 ] | [ 1970 ] | [ 1971 ] | [ 1972 ]
Build sheets, or accurately "broadcast sheets," are paperwork that accompanied a vehicle as it was being assembled showing what components were to be used during construction. These were not meant to be left in the car once they were no longer needed at a particular workstation, nor were they left for us to find them in a treasure hunt. Rather, they were suppose to be collected and tossed in the trash once they served their purpose.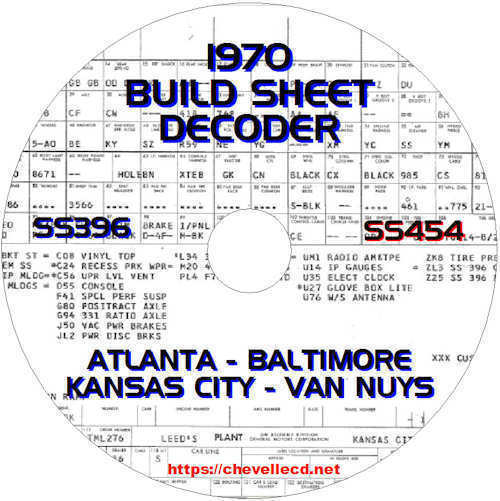 1970 SS396/SS454 Atlanta, Baltimore, & Kansas City build sheet decoder now available!
It's important to note that not all plants were the same when it came to how information was included on these build sheets. Although most of the blocks of data contain the same broadcast code (letters or numbers) for the same item from plant to plant, there are variations. Even the RPO wording in block 107 will vary from plant to plant for the same RPO. So anytime a question is asked about a particular broadcast code, the assembly plant must be taken into consideration.
The links below will take you to pages with examples of build sheets for that plant. As the SS396 and SS454 are the most popular with owners seeking information, the 'SS' optioned Chevelles have their own pages. Each page will have a back button link to return you to this page.
Chevelle Production Plants
* Arlington, Texas ~ SS396 - SS454 - Any/all other series/models
* Atlanta, Georgia ~ SS396 - SS454 - Any/all other series/models
* Baltimore, Maryland ~ SS396 - SS454 - Any/all other series/models
* Flint, Michigan ~ SS396 - SS454 - Any/all other series/models - Good examples needed
* Kansas City, Missouri ~ SS396 - SS454 - Any/all other series/models
* Van Nuys, California ~ SS396 - SS454 - Any/all other series/models
* Oshawa, Ontario ~ Oshawa did not have build documents like the U.S. plants but rather what's referred to as a Line Schedule Tag. Vintage Vehicle Services also offers a service, for a fee, that will take your car's VIN and send you a sheet outlining the date the car was sold, the dealer that sold the car, and the options it came with.
Sadly, reproduction (fake) build sheets are becoming commonplace. I have quite a few examples of fake build sheets from various plants. Some are very easy to spot, some more difficult. Without getting into specifics, as their mistakes vary, one item that is common to most is in the lower right area of the sheet in the STATEMENT OF ACCEPTANCE BY CARRIER section. All real build sheets observed will have 5 lines of text, all fake build sheets have 4 lines of text.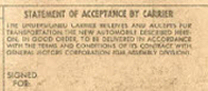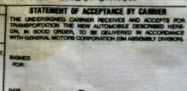 Note the 4th line in the left (real) build sheet differs from the right (fake) build sheet verbiage and omits, "...THE TERMS AND CONDITIONS OF ITS CONTRACT..." This same omission is found on fake build sheets from all plants. Apparently the suppliers of these blank fake build sheets missed this point.
There are many differences in the way the various plants coded certain options or broadcast codes. Often those faking a build sheet will take the wording and codes from one plant and apply it to another - an easy tell if you know what to look for. If you have any doubts about a build sheet's authenticity you are welcomed to email me a good, readable, photo or scan of the sheet in question and I'll be happy to look at it for you and give an opinion.
Any questions concerning your build sheet can be addressed to me at . Be sure to include the assembly plant and as many specifics about the car that you know. A readable scan or photo of the build sheet in question will also be helpful.
Here's one example of a really bad fake build sheet. Only a few of the flaws are pointed out here so as not to help others fake more sheets.
Where They Have Been Found
ChevelleStuff receives many emails asking where their build sheet may be found in a car. The answer is simple, just about anywhere in the interior or even on top of the gas tank in some cases - and that's only when one or more may have been left in the car. Below are some photos of where build sheets have been found. These examples are certainly not the ONLY locations build sheets have been found, just some that have been reported.
Anyone with photos of their build sheet find in its original location is encouraged to send a photo to show others the location.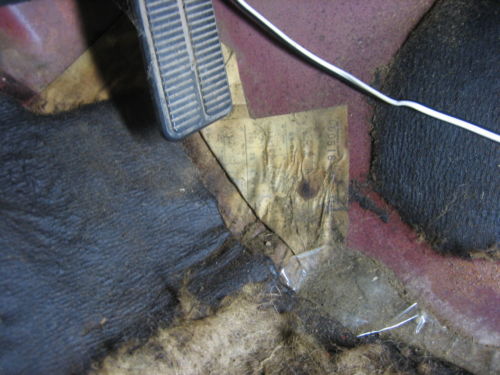 Arlington is noted for leaving build sheets under the flooring in the driver's footwell. Here's one just under the gas pedal.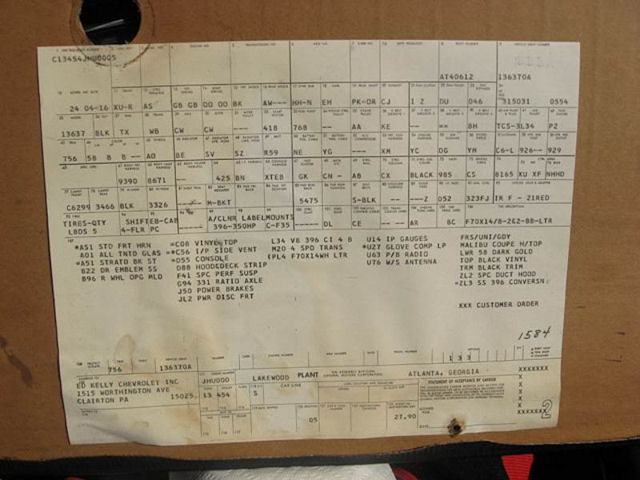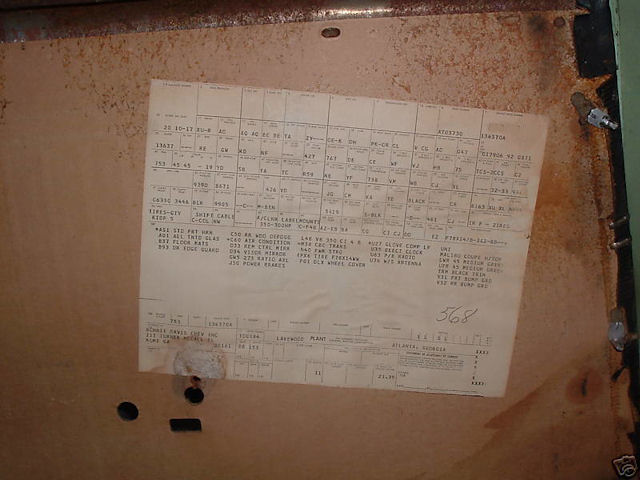 Atlanta is noted for having build sheets left stuck to the passenger side door panel.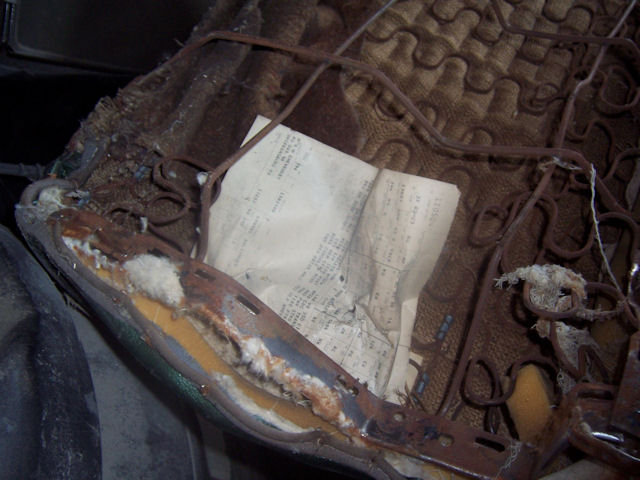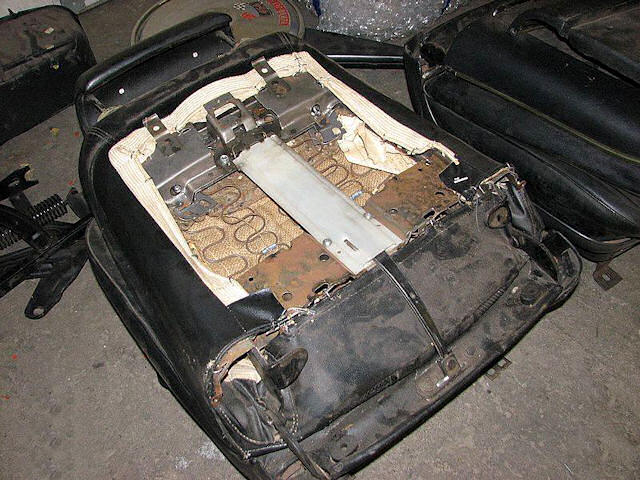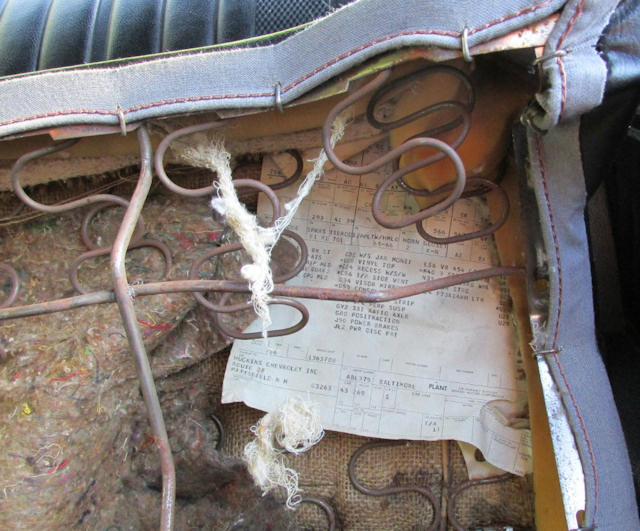 Baltimore is noted for having build sheets left in the seats, often hogringed in place whether bench or bucket.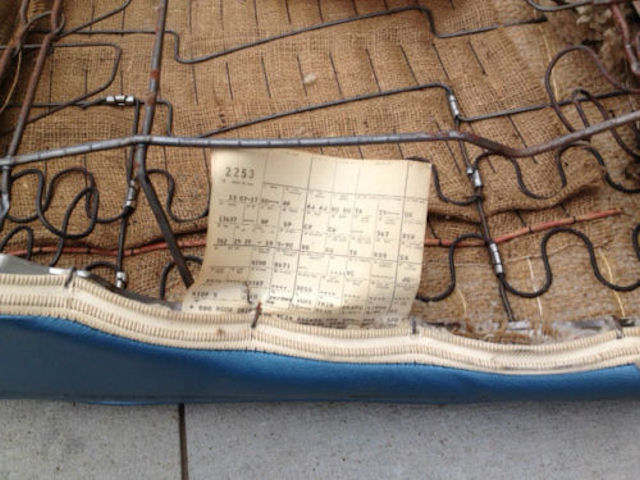 Kansas City is noted for having build sheets left in the seats, often hogringed in place.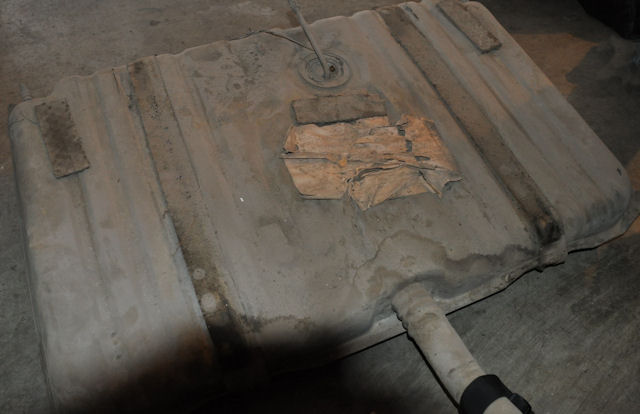 Typical Van Nuys location on top of the gas tank.