1972 Chevelle Build Sheet Examples
[ 1964 ] | [ 1965 ] | [ 1966 ] | [ 1967 ] | [ 1968 ] | [ 1969 ] | [ 1970 ] | [ 1971 ] | [ 1972 ]
Build Sheets are paperwork that accompanied a vehicle as it was being assembled showing what components were to be used during construction. These were not meant to be left in the car once they were no longer needed at a particular workstation, nor were they left for us to find them in a treasure hunt. Rather, they were suppose to be collected and tossed in the trash once they served their purpose.
It's important to note that not all plants were the same when it came to how information was included on these build sheets. Although most of the blocks of data contain the same broadcast code (letters or numbers) for the same item from plant to plant, there are variations. Even the RPO wording in block 107 will vary from plant to plant for the same RPO. So anytime a question is asked about a particular broadcast code, the assembly plant must be taken into consideration.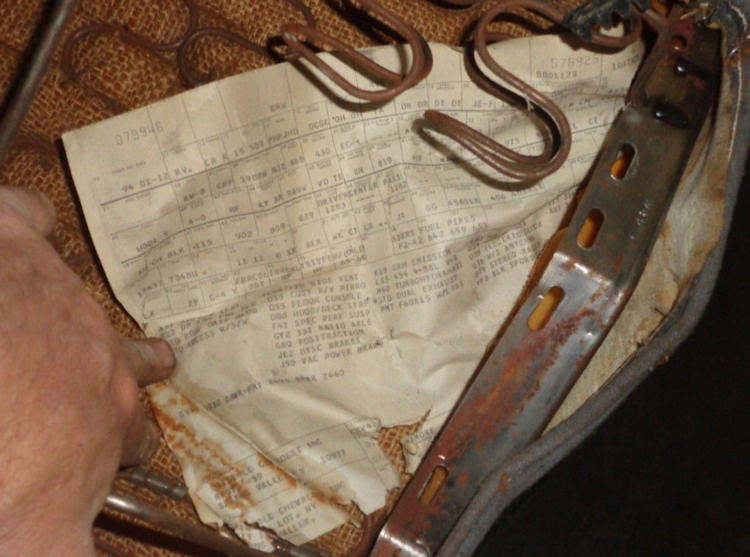 Typical Baltimore build sheet location in seat.
The links below will take you to pages with examples of build sheets for that plant. As SS are the most popular with owners seeking information, the 'SS' optioned Chevelles have their own pages. Each page will have a [ BACK ] link to return you to this page.
Chevelle Production Plants
* Arlington, Texas ~ SS - Any/all other series/models
* Baltimore, Maryland ~ SS - Any/all other series/models
* Kansas City, Missouri ~ SS - Any/all other series/models
* Van Nuys, California ~ SS - Any/all other series/models
* Oshawa, Ontario ~ Oshawa did not have build documents like the U.S. plants but rather what's referred to as a Line Schedule Tag. Vintage Vehicle Services also offers a service, for a fee, that will take your car's VIN and send you a sheet outlining the date the car was sold, the dealer that sold the car, and the options it came with.
Any questions concerning your build sheet can be addressed to me at . Be sure to include the assembly plant and as many specifics about the car that you know. A readable scan or photo of the build sheet in question will also be helpful.