Chevelle SS, 1964-1972, A Muscle Car Source Book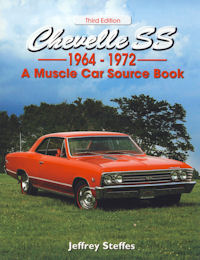 Pros:
Beautiful color photos of Chevelles and structured layout of information presented. I must admit I played a small part in the technical area of this book so I'm pretty certain it's correct and up to date. Where applicable, SS396 and SS-optioned El Caminos are included along side the sport coupes and convertibles.
The book is logically designed and laid out and should be part of anyone's library that is interested in 1964 through 1972 Super Sport Chevelles.
Cons:
None that I know of. Again, I assisted in the technical information of this book so I may be a bit biased but I believe it to be factually correct.
Recommendation:
An accurate reference book for 1964 through 1972 Malibu SS, SS396, and SS-optioned Chevelles.