Catalog of Chevelle, Malibu & El Camino ID Numbers 1964-87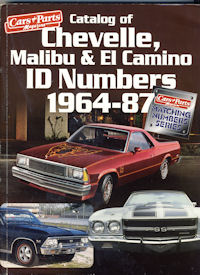 Pros:
Fairly reliable reference material for identifying paint codes, style numbers, VIN decoding, RPO codes, etc. for 1964 through 1987 Chevelles, Malibus & El Caminos. Information on 1973 through 1987 Chevelles & Malibus is hard to find and this is about as good a reference book on these years I've found. Has color photos of interior trim as well as exterior paint examples. Also includes casting numbers for engine blocks, cylinder heads, and exhaust manifolds.
Cons:
Information on things like decoding Protect-O-Plates and trim tags is generic for a given year. The book just isn't big enough to delve into the variations of things like this among plants in a given year. Other errors in the book have been found
Recommendation:
Buy the book, it'll compliment your library.