Chevrolet by the numbers 1955-1959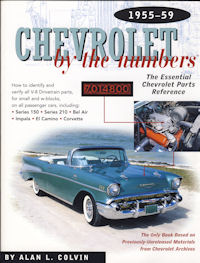 One of several "...by the numbers" books by Alan L. Colvin. This one deals with the model years of 1955 up through 1959.
Pros:
Excellent reference material for casting numbers, part numbers, and Chevrolet engineer drawings previously unavailable to the general public. Just about anything you want to know about hard items like engine blocks, cylinder heads, carburetors, intake & exhaust manifolds, etc. are covered in the book; 18 chapters of various components in all. Information is available on full size and Corvette models.
Not really much here for the Chevelle enthusiast but why not complete your collection of Mr. Colvin's books?
Another nice feature is the Summary of Changes that outlines updates of all revisions printed to date listing the revision printing number and changes made for that printing.
Cons:
Information on Fisher Body plates is sadly missing. The writer states he has information on these codes but is reluctant to publish them to help prevent fraud. Yet other, potential information for fraud is readily available such as engine ID stampings, carburetor numbers, etc. Plus, not all Fisher Body plates contain really pertinent information about the car at all.
Total lack of 6-cylinder engine information; no engine ID codes, no block or cylinder head casting numbers, no carburetor information, nothing.
Recommendation:
Buy the book! It'll save you hours of searching.