Stock Chevelle Wheels | Stock El Camino Wheels
Chevelle Wheels
All wheels are 5-lug, 4-3/4" bolt pattern. All should have the size of the wheel and some type of manufacturer's trademark and is usually found on the inside of the wheel along with a series of numbers/letters such as 14x6 JJ. There will be a number stamped below or to the right of this alphanumeric series that represents the month. An example might look like K-1-7 4 DG for a 1967 rally wheel (DG) made at the Romulus, MI. plant in April of 1967 (K-1-7 4).
The workers stamping wheels didn't always follow this "rule" though as shown by this 1967 rally wheel.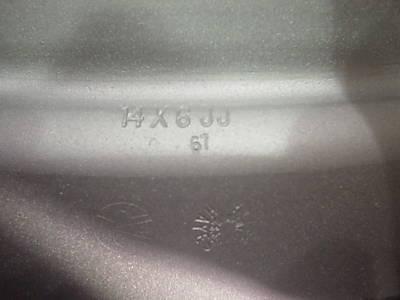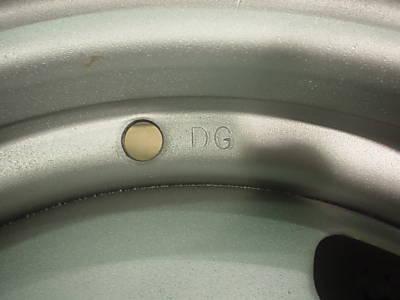 Often found on the spider of the outside is the Kelsey-Hayes assembly date of the wheel. An example would be K-1-0 where K is Kelsey-Hayes, the first 1 is the plant (1=Romulus, MI, 2=Windsor, ON, 3=Philadelphia, PA.) and the last digit is the model year, or 1970 in this case.
| | | | | |
| --- | --- | --- | --- | --- |
| Year - Model | Code | Size | Offset | Notes |
| 1964 - Chevelle | | 14x5 J | 0.44 | All |
| 1965 - Chevelle | | 14x5 J | 1.00 | Pass & Wagon |
| 1966 - Chevelle | XC | 14x5 J | 1.00 | Pass & Wagon |
| | | 14x5 JK | 1.00 | Wagon & H.D. |
| 1967 - Chevelle | XC | 14x5 J | 1.00 | Pass & Wagon |
| | | 14x6 JK | 1.00 | SS & H.D. |
| | DA | 14x5 JJ | 0.88 | Rally D/B except SS, Camaro D/B except SS. |
| | DG | 14x6 JJ | 0.88 | SS Rally D/B, Camaro SS w/D/B |
| 1968 - Chevelle | XC | 14x5 J | 1.00 | Pass & Wagon |
| | | 14x6 JK | 1.00 | SS & H.D. |
| | XE | 14x6 JJ | 0.88 | D/B |
| | XB | 14x6 JJ | 0.88 | Rally |
| 1969 - Chevelle | XC | 14x5 J | 1.00 | Pass |
| | YX | 14x5 JJ | 0.56 | Wagon |
| | XE | 14x6 JJ | 0.88 | D/B |
| | YV | 14x6 JJ | 0.88 | Replaced XE |
| | YB | 14x6 JJ | 0.88 | Wagon D/B |
| | XB | 14x6 JJ | 0.88 | Rally D/B |
| | YW | 14x6 JJ | 0.88 | Replaced XB |
| | AE | 14x6 JJ | 0.88 | Wagon drum and D/B |
| | YA | 14x7 | 0.88 | SS |
| | AO | 14x7 | 0.88 | Replaced YA |
| 1970 - Chevelle | YD | 14x5 | 0.60 | RPO except SS & Wagon |
| | YW | 14x6 JJ | 0.88 | Rally |
| | YB | 14x6 JJ | 0.88 | RPO & Wagon |
| | CZ | 14x6 JJ | 0.88 | Replaced YB |
| | AE | 14x6 JJ | 0.88 | Wagon Rally |
| | AO | 14x7 | 0.34 | SS |
| | YA | 14x7 | 0.34 | SS found on early model year |
| 1970 - Monte Carlo | YH | 15x7 JJ | 0.30 | Rally |
| 1971 - Chevelle | FF | 14x5 | 0.60 | standard |
| | CZ | 14x6 JJ | 0.88 | RPO, Wagon |
| | DE | 14x6 JJ | 0.50 | RPO Rally except SS |
| | AU | 15x7 JJ | 0.30 | SS |
| 1971 - Monte Carlo | XX | 15x6 JJ | 0.85 | Standard |
| | XY | 15x7 JJ | 0.30 | Optional, SS |
| | FW | 15x7 JJ | 0.30 | Rally |
| 1972 - Chevelle | DD | 14x5 | 0.60 | Standard |
| | DE | 14x6 JJ | 0.50 | Rally |
| | AU | 15x7 JJ | 0.30 | SS |
| | CZ | 14x6 JJ | 0.88 | Wagon |
| 1972 - Monte Carlo | XX | 15x7 JJ | 0.85 | Standard |
| | AH | 15x7 JJ | 0.30 | |
| | FW | 15x7 JJ | 0.20 | Rally |

Stock Chevelle Wheels | Stock El Camino Wheels