Obscure Canadian-built 1966/1967 Malibu SS
How do I contact the Canadian Vintage Vehicle Service and get documentation on my Canadian built Chevelle?
Contact Vintage Vehicle Services for information
.
---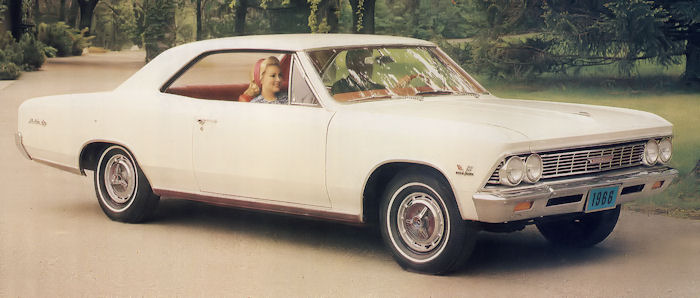 1966 Malibu SS with optional 396 engine.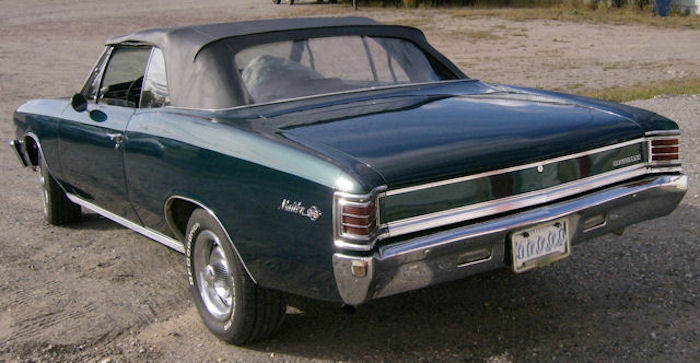 1967 Malibu SS convertible


1967 Malibu SS convertible

While in the United States Chevrolet was marketing the 138-series SS396, in Canada there was a curious version that was not well known or understood. In fact, its very existence is doubted by many - the Malibu SS of 1966 and 1967.
Following on the heels of the 64/65 Malibu SS, where the SS was really more about trim than drive train, in Canada they continued with that marketing strategy. Although the 1965 Auto Pact between Canada & the U.S. would soon have a marked effect on model offerings, the '66 models were already committed to production.
In the U.S. there were a number of different series, many drive train combinations and many options. In Canada they made do with only 2 series, simplified drive train choices and fewer interior options. In the U.S. there were 300 series, 300 Deluxe series, the Malibu and the SS396 series. In Canada there was only the 300 & Malibu series. Since there was no 300 Deluxe series for a base wagon, it was shifted into the base 300 series. Canadian production was perhaps 1/10th of that in the U.S. in terms of volume. Sheer economics dictated a more simplified lineup. For probably that reason alone, convertible production needed whatever means to get production figures up to the point where the body style was profitable to build after tooling up. Besides offering a convertible on the Malibu, there was also a 300 convertible to appeal to the traditionally thrifty Canadians. Combine that production with the Chevelle's fraternal twin the Beaumont and it is likely that GM Canada built the cars profitably with that formula. However, the base 300 was not a big factor on convertible sales. For example, only 96 of the V8 300-series convertibles were built for 1967! There were never more than about 200 or 300 of those cars produced annually as six cylinder or eight cylinder models.
As for the Malibu SS, it was the means by which you got bucket seats in your 135 or 136 series Malibu Sports Coupe or Convertible. In the U.S., the RPO A51 stood for Bucket Seats, but in Canada it stood for an option package referred to by GM Canada as 'The Sports Option'. They may as well have referred to it as 'The Malibu SS Option' since that's what it was, but it also turned a Beaumont Custom into a Beaumont Sport Deluxe. It even turned a Pontiac Parisienne (sort of a Catalina/Chevrolet hybrid) into a Parisienne Custom Sport.
The Malibu SS, or the 'Malibu with the Sports Option' (as GM put it so clumsily in the brochures), was a trim option mainly. You bought and paid for Bucket Seats, Console (except 3-speed manual cars) and the low cost P01 Wheel Covers. Chevrolet would add the ribbed rocker panel moldings and matching rear quarter extension from the SS396. Malibu SS emblems sourced from the 1965 models adorned the quarter panels. Front and rear it was pure Malibu, lacking any hood or grille modifications whatsoever. Out back for '66 they simply used Argent paint fill in the Malibu rear cove to differentiate the SS. Under the conventional hood you could specify all the regular Chevelle engines; the 194, 230, 283 2-barrel, the 327 275-horse 4-barrel, PLUS you could also specify the 360-horsepower Turbo-Jet 396 V8. This was a legitimate situation where a 136-series car could have a 396, whereas today it marks a U.S. car as a fake SS. Transmission choices in Canada were pretty straight forward as well; 3-speed manual, 4-speed manual (M20 only) or Powerglide automatic. The only ornamentation that showed your Malibu SS as being big-block powered were the crossed-flags on the front fenders. The 396-powered Beaumont Sport Deluxe was a true sleeper since it used the same 'V8' insignia that was used on 283 & 327 cars. No redlines either for 1966.
The situation was much the same for 1967. In the U.S. you could get a Malibu with either bench or optional bucket seats and power ranging from a 140-horse six to a 325-horse 327 V8, and you could get an SS396 with either bench or bucket seats and a 396 with either 325 or optional 350-horsepower (375 horses added secretly late in the run). Meanwhile in Canada you could get a Malibu with bench seats and power ranging from the 140-horse six to the 275-horse 327. Or you could specify Bucket Seats on your Malibu making it a Malibu SS and get engines ranging from the 140-horse six to the 350-horse 396 V8. The 'Sports Option' came with buckets, console, P01 wheel covers (now with 'SS' center emblems), while GM gave the wheel opening moldings and ribbed rockers from the SS396 to you in place of the usual Malibu fare (lower body side moldings that ran aft of the front wheel to the back bumper). The 'Malibu SS' emblem was again employed. The front and rear styling was regular Malibu, with no 'Big Block' hoods being used even with a 396, and the rear was pure Malibu. They didn't even get any special rear end paint (Argent, Black or otherwise), to distinguish a Malibu SS. Oh, I almost forgot that the wood grained dash strip was used, along with the Malibu script above the glove box. At least the horn button said 'SS' instead of 'Chevelle'. For 1967 the 396-powered Malibu SS came standard with F70-14 redline tires mounted on 14x6 wheels. Also not even mentioned in the brochure, but somehow ordered by a few 396 buyers anyway, was the same low wide optional D96 side striping (the same one offered in the U.S. on the SS396).
So, do you now think you're finally straight on the Malibu SS in Canada? Well, they stopped with that scenario in December of 1966. Starting New Year's 1967 the Malibu SS was gone. You could now get a 138-series SS396 as in the U.S., and you could now also get bench or bucket seats in your Malibu and still come out with a Malibu. No more 136-series cars with 396 power, it was 138-series only.
Cam Milne
Member #28
CanAm Chevelle Club
Reprinted courtesy of Cameron Milne.
---
If D55 appears on the trim tag, then that 1967 Malibu was built after the "Sports Option" was discontinued. In that case the 136xx car could not have a factory 396, since at that point the 138-series SS396 was in production.
Prior to what I feel confident in saying to be November 21, 1966 as the switchover date, a 136-series Malibu could have been ordered with an L34 396, but only with the A51 Sports Option. The A51 Sports Option badged the car as a Malibu SS, came with bucket seats, and a console if it had a Powerglide, 4-speed, or a 396 with any trans. The D55 was not coded on the trim tag since it could not be added or deleted, it simply came on all Sports Option cars except those with 3-speed column shifts.
After the switchover date when the 138-series SS396 entered production, simultaneously the Sports Option was dropped, and A51 now simply referred to bucket seats. At that point the D55 console option was a separate option that would be coded on the trim tag.
Courtesy Cameron Milne
---
Canadian Chevelles did not have a SUPER SPORT series per sé in 1966, hence all 1966 Malibu SS Sport Coupes and Convertibles have the 136 VIN. The Sport option, A51, could be ordered with any engine much like the 1964 and 1965 U.S. SS optioned Chevelles. The L34 was the only 396 available in Canadian built cars in 1966, no 325hp or 375hp engines. Starting mid year 1967(2), there were Canadian 138 VIN Super Sport models being produced.
Some things to watch for on Canadian built Chevelles are the under hood, firewall, underbody and sometimes trunk were painted the body color. Some trunks were a medium gray with aqua spatter paint Two cars built a week apart may have different trunk paint schemes.
Only 499 1967 SS396(1) cars (sport coupes and convertibles) were built. The majority came with 4-speed, power brakes (all boosters are black), and no power steering although power steering was certainly an option. Apparently, some kind of package GM Canada suggested to dealers to launch the 396 car as the A51, M20, L34, F40 suspension and power brakes were packaged together at a special price so a lot of Canadian SS396's have this base equipment.
None of the early SS396 models came with the scooped hood or blacked out grille like the U.S. counterpart but they did get the black valance for the most part and some even came with the valance painted argent silver.
My special thanks to Bill Waters for this information.
(1) Subsequent Vintage Vehicle Services documents has shown the 499 number to be suspect. I have documents on, currently two, 1967 SS396 Chevelles built in Canada and both state that 867 13817 SS396 Chevelles were "...produced for sale in Canada..."
Early 1966 A51-optioned Malibu SS Chevelles got either black or argent silver in the rear cove depending on body color. Very late Malibu SS Chevelles for a brushed aluminum panel. No dates have been determined when these were done however.
At least two documented A51-optioned 1967 Malibu SS Chevelles are reported with a blacked out rear cove.
---
Only 50 SS396(2) convertibles were built in Oshawa Ontario, making them rarer than a Z16. Of course they were the flat hood, 360 hp only. One of the fifty was owned by a fellow that was part owner of the CanAm Restoration/upholstery company in Detroit. Also in 1965, you could get the L79, 350 hp 327 in our Beaumonts and it had a name like Panther. It was a play on the Tiger since the Beaumonts were a Pontiac brand. I test drove a brand new, would you believe a white four door L79 4speed, Beaumont at Bow Mclean motors in Vancouver B.C. in 1965 and the car was awesome; ugly as sin but fast.
Information courtesy of Grant Didmon.
(2) This number is suspect since the SS396 did not emerge as a series in Canada until 1967 model year with the earliest known 1967 SS396 being built in late November 1966.
---