1972 Chevelle Interiors
[ 1964 ] | [ 1965 ] | [ 1966 ] | [ 1967 ] | [ 1968 ] | [ 1969 ] | [ 1970 ] | [ 1971 ] | [ 1972 ]
Steering Wheels (Group 6.513)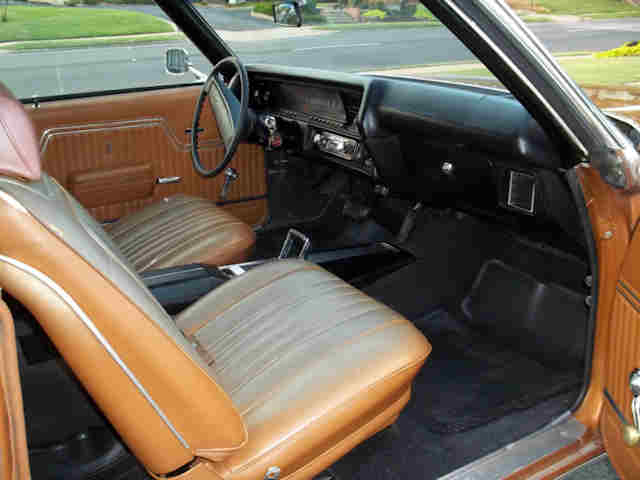 The base steering wheel and dash carrier for both the Chevelle and Malibu series were no longer color coded with the interior but instead only came in black and the steering wheels have a "Chevrolet" script on the right of the horizontal horn bar just as they did in 1971.
GM part #3989115 with emblem #3992304.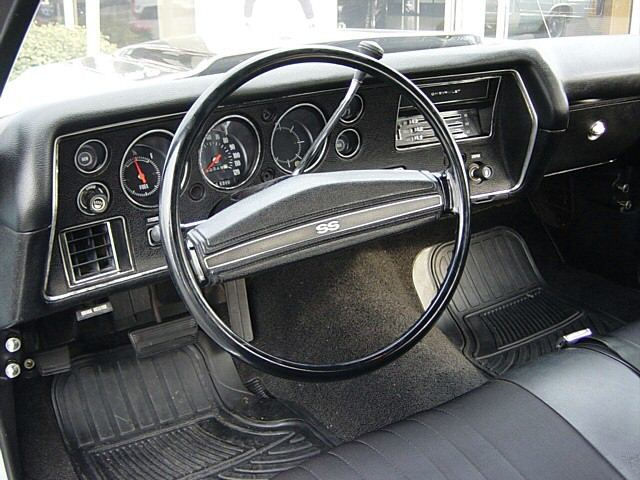 When optioned with RPO Z15, the steering wheel sported an SS emblem in place of the Chevrolet script.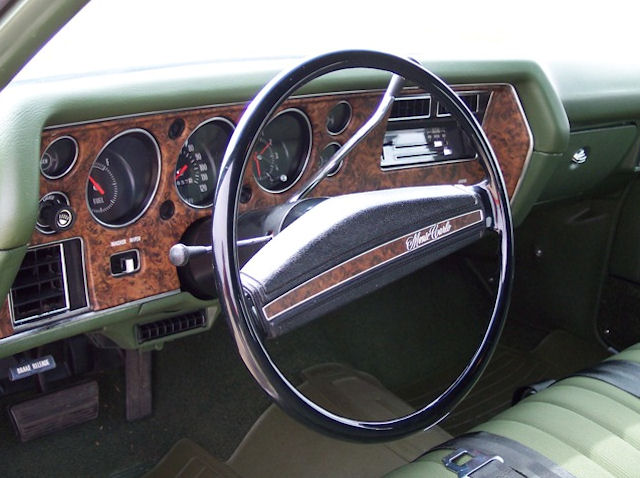 The Monte Carlo got a burl-wood strip to match the dash along with Monte Carlo script.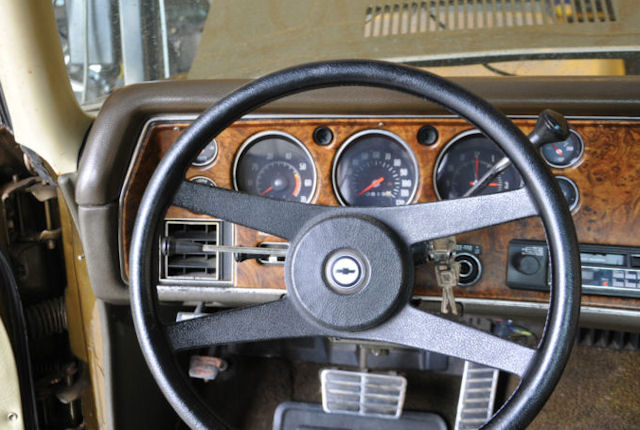 Monte Carlo with NK4 sport wheel.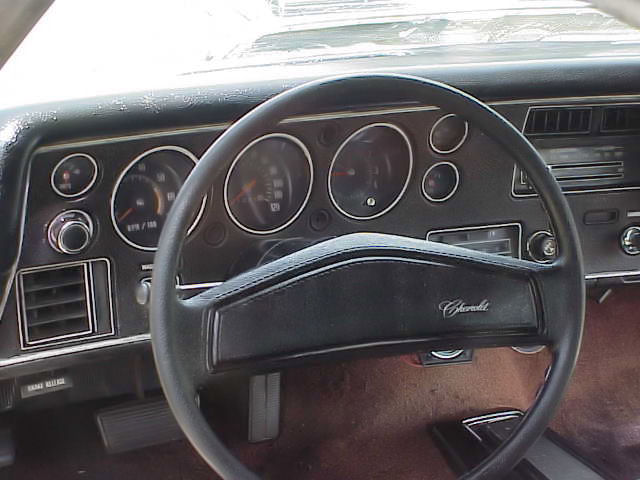 The NK2 Deluxe steering wheel was carried over from 1971 and sold quite a few more in this year; 9,586 were sold in 1972. Note incorrect headlamp switch knob from the 1970 model year.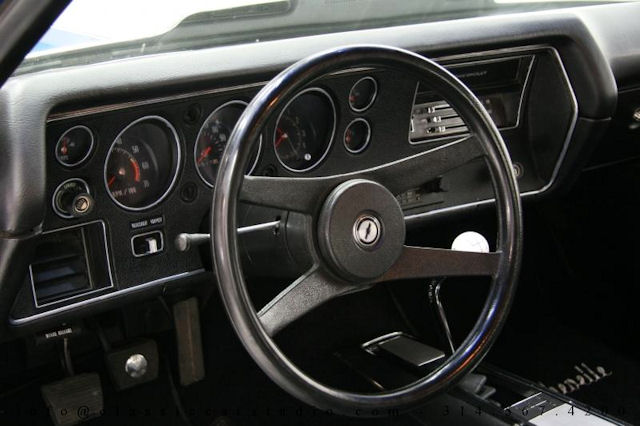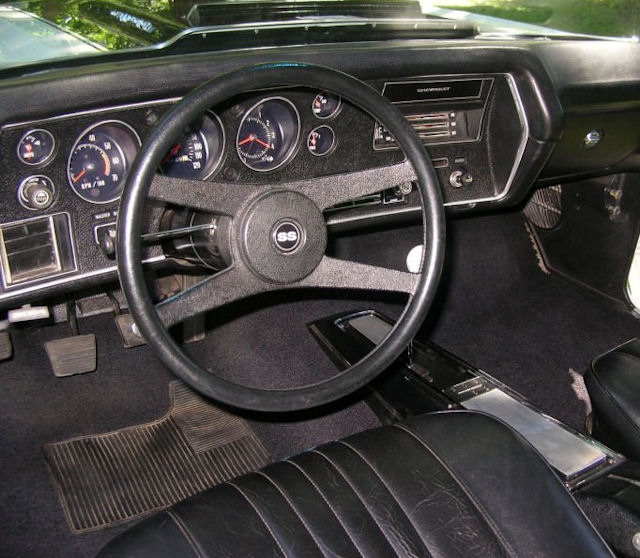 The NK4 Sport steering wheel is essentially the same as the 1971 model year and only available in black. Note the bowtie emblem on the wheel in the top photo and the SS emblem in the lower photo. SS optioned Chevelles have been found with both optional NK4 steering wheels, some with the SS button and some with just the bowtie. Whether the owner's of those with the SS button were just 'upgrading' to the SS button isn't known but, according to reliable sources the NK4 steering wheel only came with the bowtie button. 1972 20,486 NK4 Sport steering wheels were sold.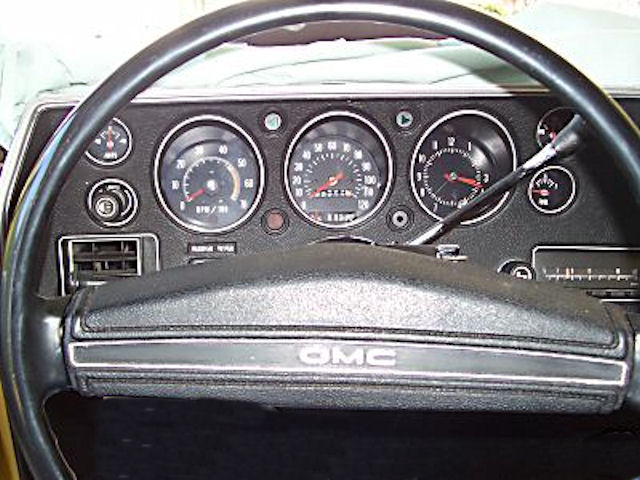 As in 1971, the GMC sprint steering wheel was essentially the same its U.S. counterpart with the exception being the GMC script.
Door Panels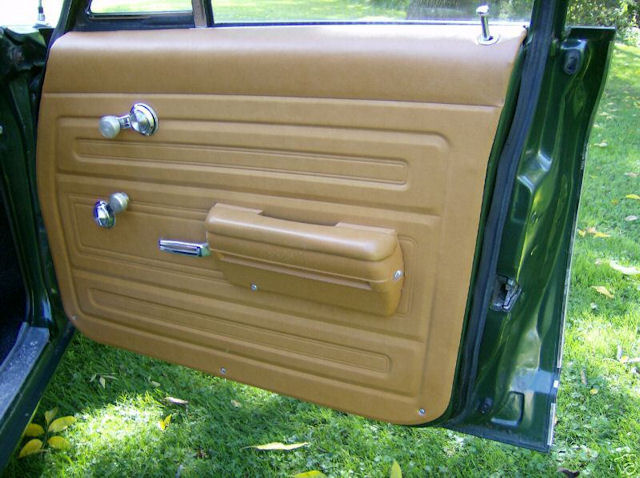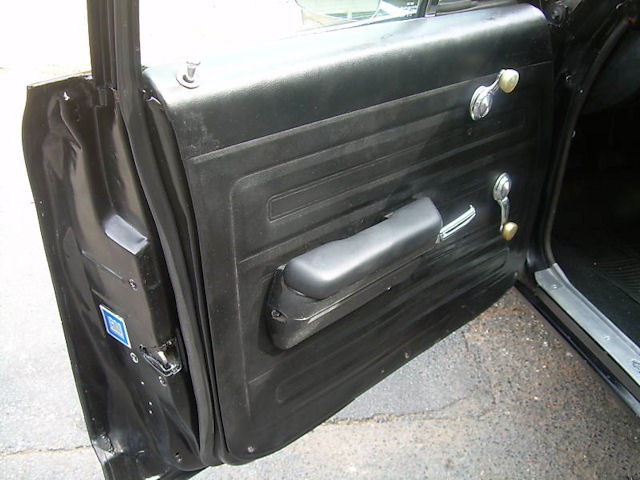 The Nomad series door panels were stylish but devoid of any bright trim like the 1971 model year.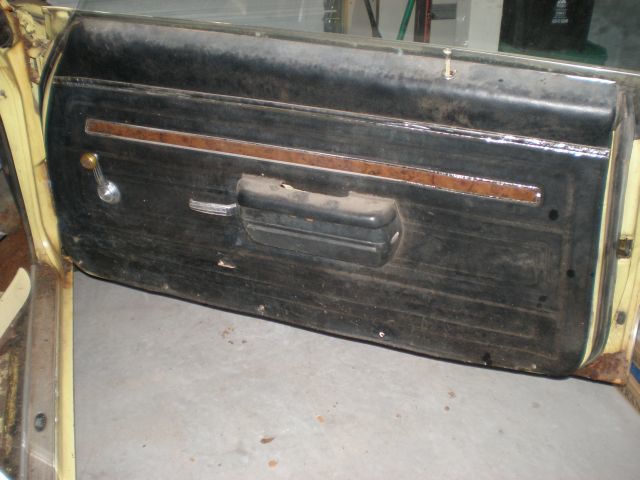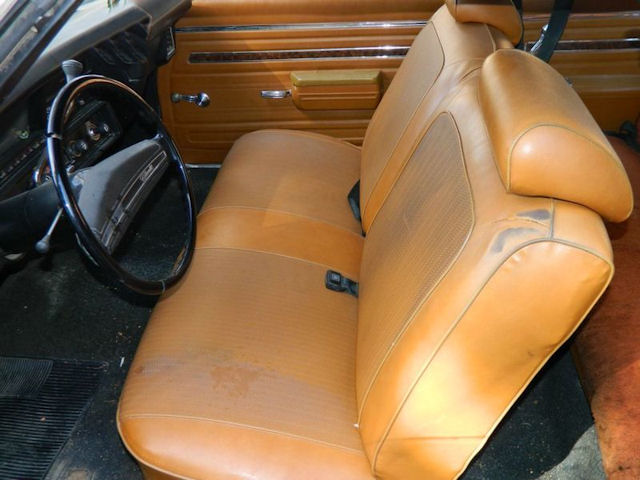 The Chevelle/Greenbrier wagon Standard series door panel is similar to the 1971 model year. The primary difference is the simulated burl-wood accents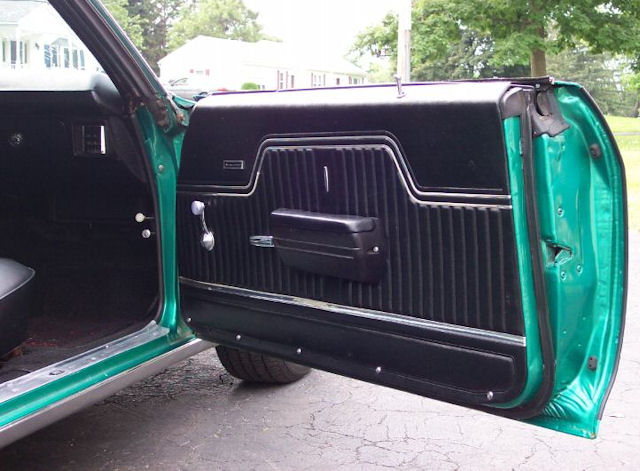 The Malibu sport coupe and convertible door panels continued in the theme of the 1970 and 1971 model years and carried a MALIBU emblem.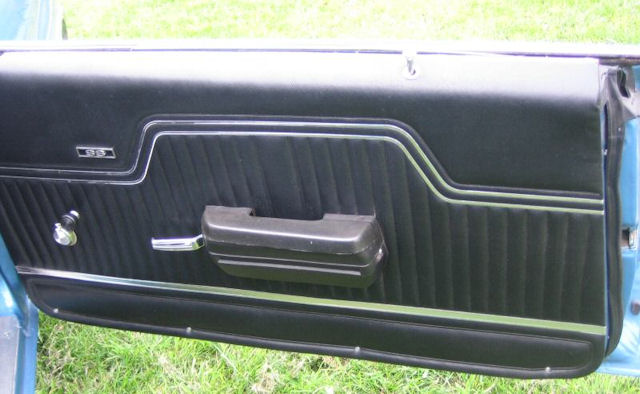 When equipped with RPO Z15 SS Equipment option, the MALIBU emblem gave way to the SS emblem as it did in 1971 but only on the sport coupe and convertible.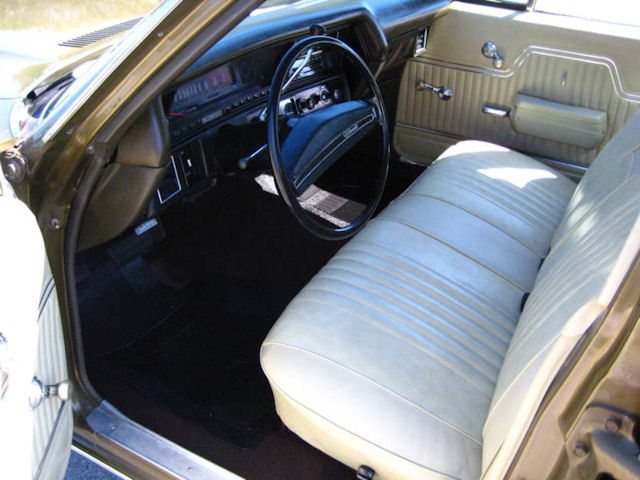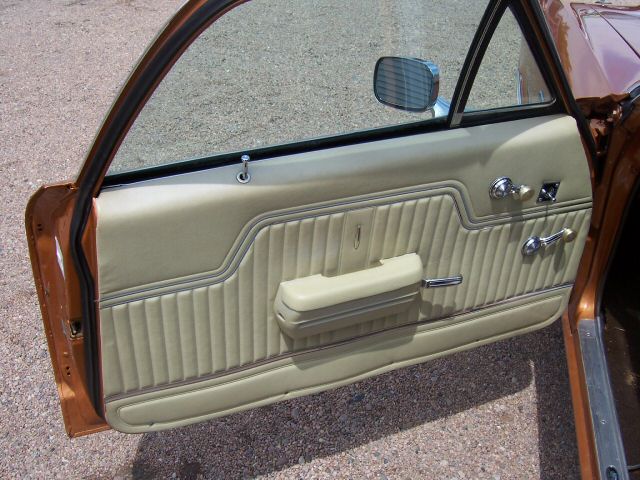 Since the Malibu sedan and the pickup still used the vent window, no emblems appeared on the door panel as they would interfere with the vent window regulator.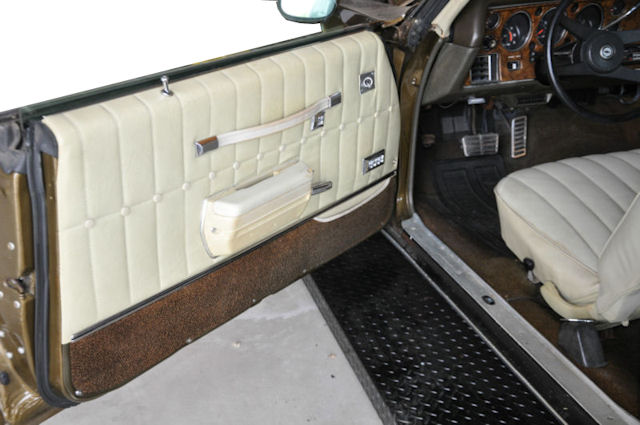 The Monte Carlo interior was more upscale than the Malibu with color coordinated carpeting along the bottom of the door.
instrument Panel - Group 10.000
Standard Instrument Panel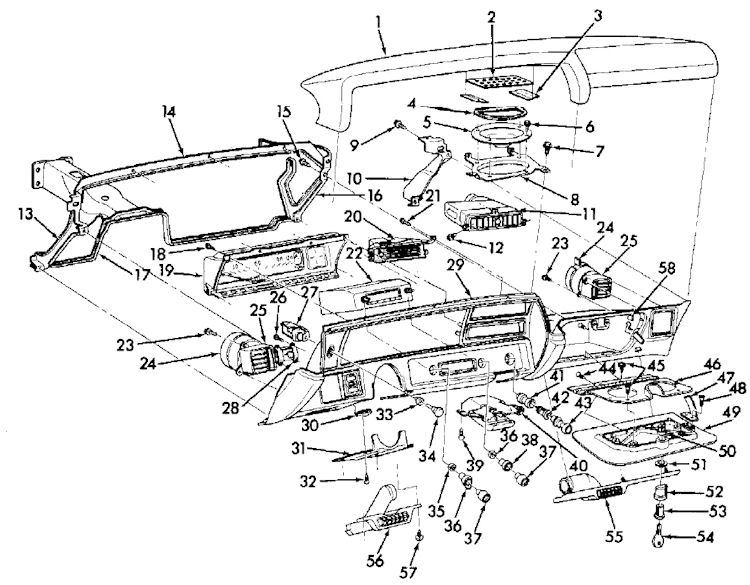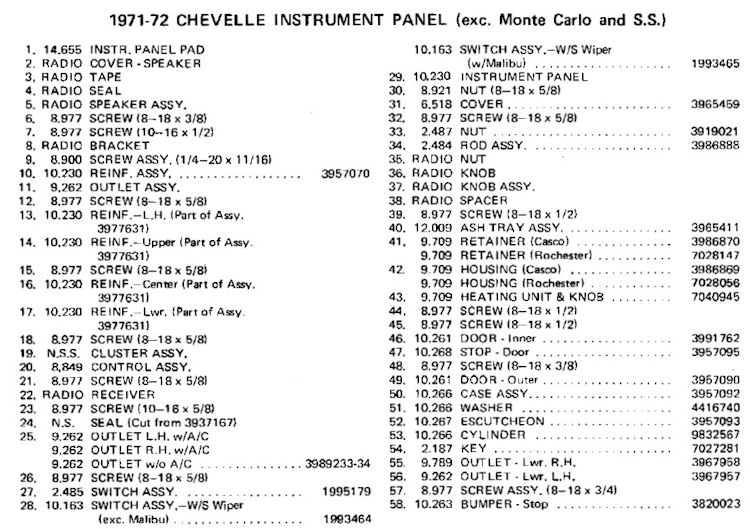 1970-1972 SS, Malibu, Chevelle V8 Sport Coupe, Convertible or Pickup with U14 Instrument Panel Gauges, and Monte Carlo Instrument Panel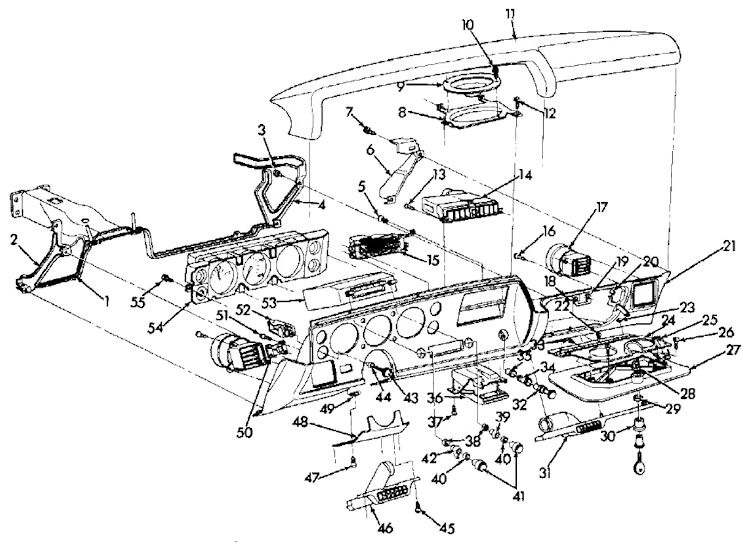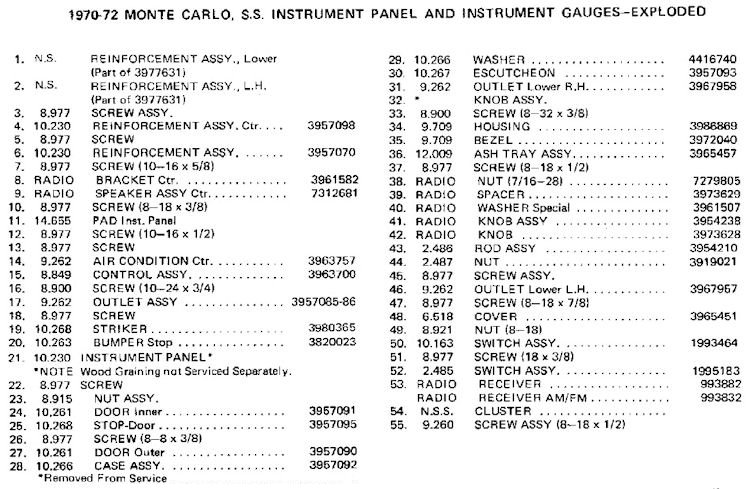 It should be noted the 1972 model year has a provision for a Fasten Seat Belt warning lamp just above the lighter (32,33, & 34) that is not shown here.
Seat Belts (Group 14.875)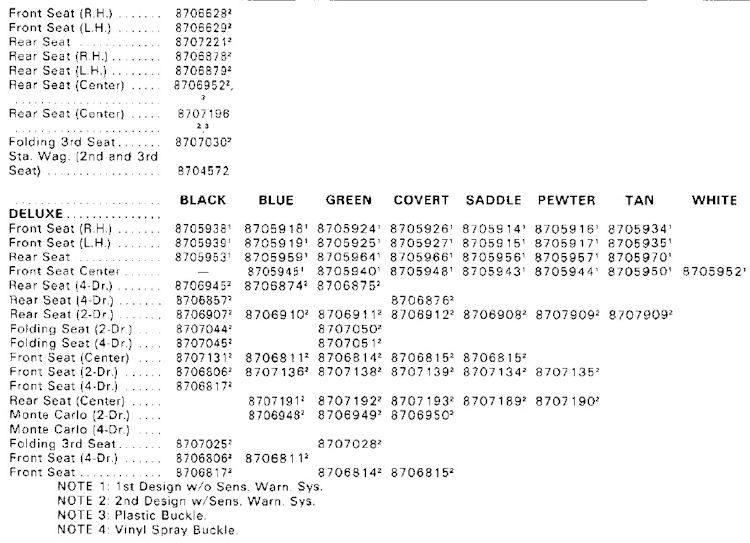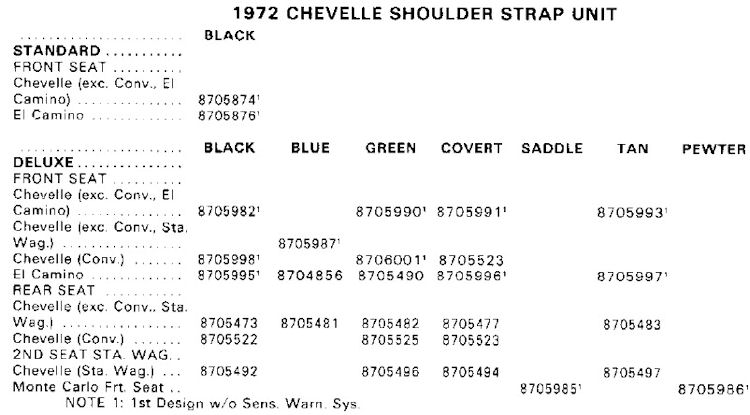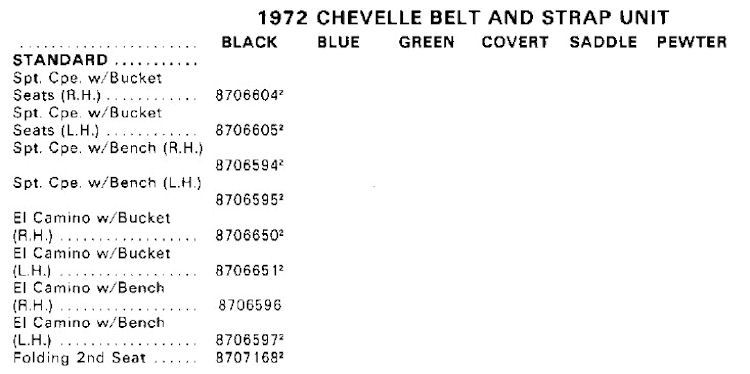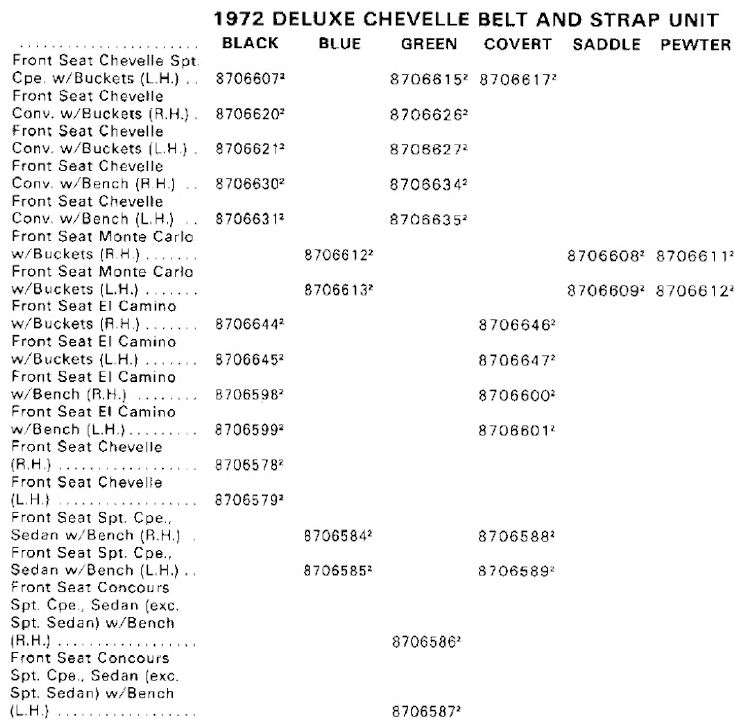 Note 2: 2nd Design w/Sens. Warn Sys.
Note 3: Plastic Buckle