1966 Fremont, CA. Data Request
[ Atlanta ] | [ Baltimore ] | [ Framingham ] | [ Fremont ] | [ Flint ] | [ Kansas City ] | [ Oshawa ]
I am collecting data on 1966 & 1967 Chevelles VIN numbers and trim tag information; all for a personal database and not for publication. Your help with this information would be appreciated. No personal information is required or requested. Data are being compiled to try and gain a sense of quantities of paint colors sold, interiors sold, etc. and collect anomalies of plant production.
What is requested is the VIN (such as 138176Z123456) found on the driver side A-pillar and data on the trim tag located on the firewall. Any readable photos would be best as info on the trim tag can vary from plant to plant. Two sample 1966 Fremont trim tags are shown with requested information listed. Note the early (until 01A) tags tend to have a 3-letter paint code where later tags only have two.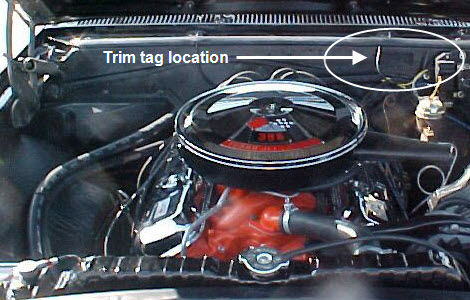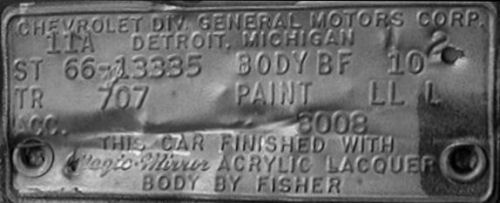 Early tag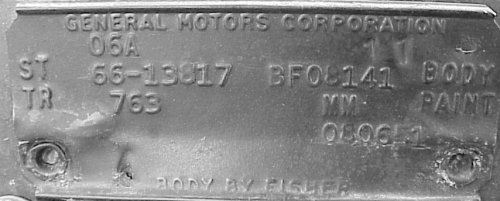 Late tag
Line 1: Body date - 11A and 06A in these examples
Line 2: Fisher Body style number - 13335 and 13817 in these examples
Line 2: Fisher Body unit number - 10 and 08141 in these examples
Line 3: Interior trim code - 707 and 763 in these examples
Line 3: Exterior paint code - LL L and MM in these examples
Line 4: If the car has a vinyl top the code C08 is often listed here; please include if applicable.
Line 4: Five or six digit number - 8008 and 080651 in these examples
Misc: Fremont trim tags generally have another hand-stamped number somewhere on the tag. In the example these numbers are "12 and 11" and are located in the upper-right corner but could also be in the center of the tag. The number and its location is requested.
Any photos can be emailed to me at