1969 Chevelle Body Number Plates ~ Baltimore, MD. (BAL)
[ 1964 ] | [ 1965 ] | [ 1966 ] | [ 1967 ] | [ 1968 ] | [ 1969 ] | [ 1970 ] | [ 1971 ] | [ 1972 ]
It is unknown if in 1969 Baltimore coded all trim tag style numbers with an even 3rd digit so the Fisher Body Style number is not a valid resource to tell if the car was a V8 or L6. The units sold number represents a V8 unless otherwise noted.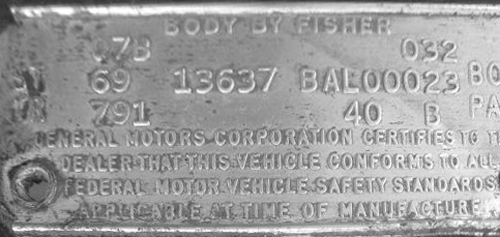 07B ~ Body Date - July 2nd week (1968)
032 ~ unknown
ST 69 13637 ~ 1969 Malibu Sport Coupe
BAL ~ Body Assembly ~ Baltimore, Maryland
00023 BDY ~ Fisher Body data processing number (ID number on Body Broadcast Copy)
TR 791 ~ Aff. Parchment Coated Fabric (bucket seat)
40 B PNT ~ Butternut Yellow, black vinyl top (lower-upper)
Note: One would normally associate a July car with a very late model year production. This is a very early 1969 production car with a VIN sequence of under 300025. Note the body date (07B) is also on the first line of the tag the same way the 1968 model year was as opposed to the last line of the tag the same way later (September and forward) 1969 model year.
---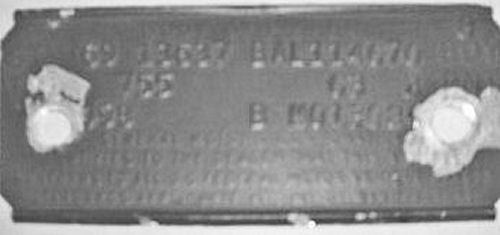 8 ~ Body cradle number
ST 69 13637 ~ 1969 Malibu Sport Coupe
BAL ~ Body Assembly ~ Baltimore, Maryland
114676 BDY ~ Fisher Body data processing number (ID number on Body Broadcast Copy)
TR 755 ~ Black Coated Fabric (bench seat)
63 B PNT ~ Champagne, black vinyl top (lower-upper)
09B ~ Body Date - September 2nd week
B M ~ See Baltimore trim tag properties
013 ~ unknown
035 ~ Trim inspection sequence number found on trim card
---

1 ~ Body cradle number
ST 69 13637 ~ 1969 Malibu Sport Coupe
BAL ~ Body Assembly ~ Baltimore, Maryland
131477 BDY ~ Fisher Body data processing number (ID number on Body Broadcast Copy)
TR 790 ~ Aff. Parchment Coated Fabric (bench seat)
55 50 PNT ~ Azure Turquoise, Dover White (lower-upper)
10E ~ Body Date - October 5th week
B L ~ See Baltimore trim tag properties
055 ~ unknown
105 ~ Trim inspection sequence number found on trim card
(Sequence #319326)
---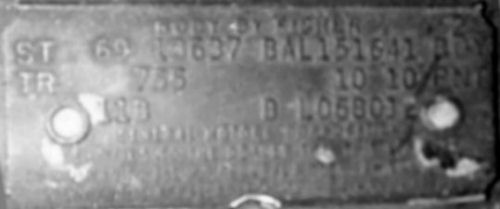 2 ~ Body cradle number
ST 69 13637 ~ 1969 Malibu Sport Coupe
BAL ~ Body Assembly ~ Baltimore, Maryland
151641 BDY ~ Fisher Body data processing number (ID number on Body Broadcast Copy)
TR 755 ~ Black Coated Fabric (bench seat)
10 10 PNT ~ Tuxedo Black (lower-upper)
11B ~ Body Date - November 2nd week
B ~ See Baltimore trim tag properties
L ~ This Malibu does have the "L" code letter on the plate but no other documentation is currently available to prove it is an SS-optioned Chevelle.
068 ~ unknown
012 ~ trim inspection sequence number found on trim card
---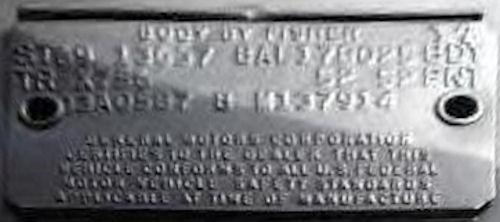 2 ~ Body cradle number
ST 69 13637 ~ 1969 Malibu Sport Coupe
BAL ~ Body Assembly ~ Baltimore, Maryland
17802? BDY ~ Fisher Body data processing number (ID number on Body Broadcast Copy)
TR X756 ~ Black Coated Fabric (bucket seat) (X unknown meaning)
52 52 PNT ~ Garnet Red (lower-upper)
12A ~ Body Date - December 1st week
0587 ~ Special order number
B M ~ See Baltimore trim tag properties
137 ~ unknown
914 ~ trim inspection sequence number found on trim card
---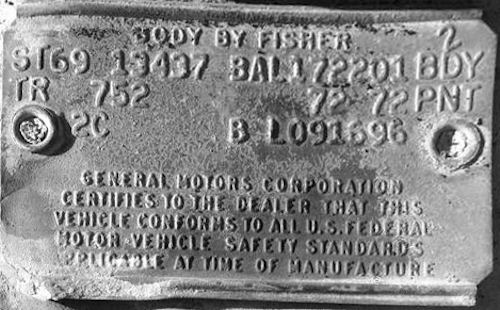 2 ~ Body cradle number
ST 69 13437 ~ 1969 300 Deluxe Sport Coupe
BAL ~ Body Assembly ~ Baltimore, Maryland
172201 BDY ~ Fisher Body data processing number (ID number on Body Broadcast Copy)
TR 752 ~ Black Pattern Coated Fabric (bench seat)
72 72 PNT ~ Monaco Orange (lower-upper)
12C ~ Body Date - December 3rd week
B ~ See Baltimore trim tag properties
L ~ This Malibu does have the "L" code letter on the plate and only paint code documentation is currently available to prove it is an SS-optioned Chevelle.
091 ~ unknown
696 ~ trim inspection sequence number found on trim card
---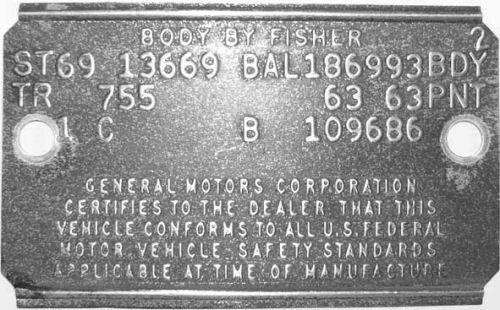 Courtesy
http://serialnumberplate.com
2 ~ Body cradle number
ST 69 13669 ~ 1969 Malibu 4-Door Sedan
BAL ~ Body Assembly ~ Baltimore, Maryland
186993 BDY ~ Fisher Body data processing number (ID number on Body Broadcast Copy)
TR 755 ~ Black Coated Fabric (bench seat)
63 63 PNT ~ Champagne (lower-upper)
01C ~ Body Date - January 3rd week
B ~ See Baltimore trim tag properties
109 ~ unknown
686 ~ trim inspection sequence number found on trim card
---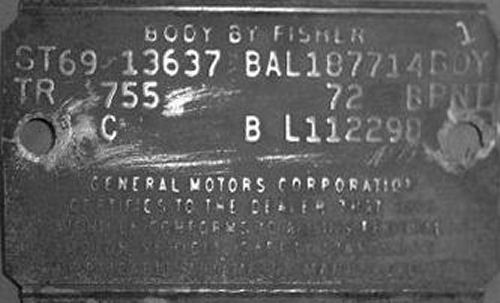 Warning - this body plate was being offered for sale on eBay in January of 2007
1 ~ Body cradle number
ST 69 13637 ~ 1969 Malibu Sport Coupe
BAL ~ Body Assembly ~ Baltimore, Maryland
187714 BDY ~ Fisher Body data processing number (ID number on Body Broadcast Copy)
TR 755 ~ Black Coated Fabric (bench seat)
72 B PNT ~ Monaco/Hugger Orange, black vinyl top (lower-upper)
01C ~ Body Date - January 3rd week
B ~ See Baltimore trim tag properties
L ~ This Malibu does have the "L" code letter on the plate and only paint code documentation is currently available to prove it is an SS-optioned Chevelle.
112 ~ unknown
290 ~ trim inspection sequence number found on trim card
---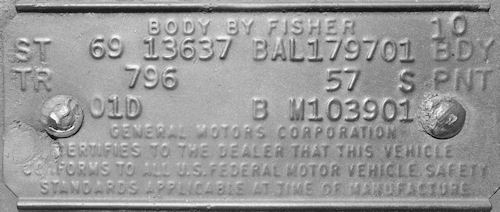 10 ~ Body cradle number
ST 69 13637 ~ 1969 Malibu Sport Coupe
BAL ~ Body Assembly ~ Baltimore, Maryland
179701 BDY ~ Fisher Body data processing number (ID number on Body Broadcast Copy)
TR 796 ~ Aff Midnight Green Coated Fabric (bucket seat)
57 S PNT ~ MFathom Green, midnight green vinyl top (lower-upper)
01D ~ Body Date - January 4th week
B M ~ See Baltimore trim tag properties
103 ~ unknown
901 ~ trim inspection sequence number found on trim card
(Sequence #337684)
---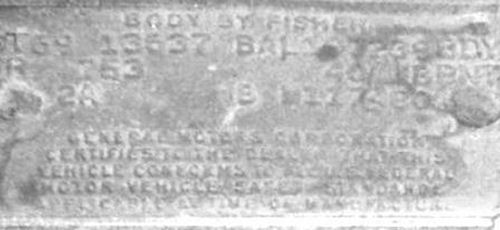 ST 69 13637 ~ 1969 Malibu Sport Coupe
BAL ~ Body Assembly ~ Baltimore, Maryland
187239 BDY ~ Fisher Body data processing number (ID number on Body Broadcast Copy)
TR 753 ~ Black Rior Cloth/Coated Fabric (bench seat)
40 B PNT ~ Butternut Yellow, black vinyl top (lower-upper)
02A ~ Body Date - February 1st week
B M ~ See Baltimore trim tag properties
117 ~ unknown
480 ~ trim inspection sequence number found on trim card
---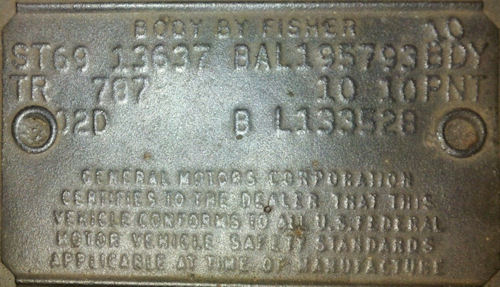 10 ~ Body cradle number
ST 69 13637 ~ 1969 Malibu Sport Coupe
BAL ~ Body Assembly ~ Baltimore, Maryland
195793 BDY ~ Fisher Body data processing number (ID number on Body Broadcast Copy)
TR 787 ~ Medium Red Coated Fabric (bench seat)
10 10 PNT ~ Tuxedo Black (lower-upper)
02D ~ Body Date - February 4th week
B ~ See Baltimore trim tag properties
L ~ This Malibu does have the "L" code letter on the plate but no other documentation is currently available to prove it is an SS-optioned Chevelle.
133 ~ unknown
528 ~ trim inspection sequence number found on trim card
---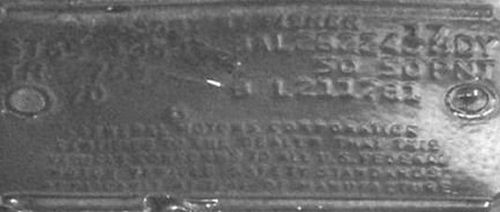 17 ~ Body cradle number
ST 69 13637 ~ 1969 Malibu Sport Coupe
BAL ~ Body Assembly ~ Baltimore, Maryland
262249 BDY ~ Fisher Body data processing number (ID number on Body Broadcast Copy)
TR 786 ~ Medium Green Ransom Cloth/Coated Fabric (bench seat)
50 50 PNT ~ Dover White (lower-upper)
02D ~ Body Date - February 4th week
B ~ See Baltimore trim tag properties
L ~ This Malibu does have the "L" code letter on the plate but no other documentation is currently available to prove it is an SS-optioned Chevelle.
211 ~ unknown
281 ~ trim inspection sequence number found on trim card
8 ~ unknown
---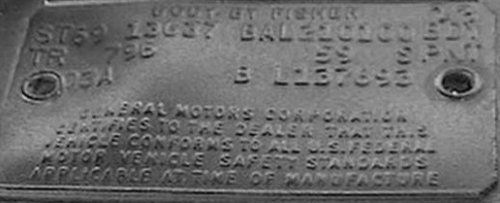 13 ~ Body cradle number
ST 69 13637 ~ 1969 Malibu Sport Coupe
BAL ~ Body Assembly ~ Baltimore, Maryland
210100 BDY ~ Fisher Body data processing number (ID number on Body Broadcast Copy)
TR 796 ~ Aff. Midnight Green Coated Fabric (bucket seat)
59 S PNT ~ Frost Green, midnight green vinyl top (lower-upper)
03A ~ Body Date - March 1st week
B ~ See Baltimore trim tag properties
L ~ This Malibu does have the "L" code letter on the plate but no other documentation is currently available to prove it is an SS-optioned Chevelle.
137 ~ unknown
693 ~ trim inspection sequence number found on trim card
---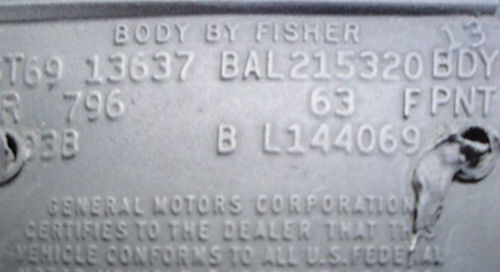 13 ~ Body cradle number
ST 69 13637 ~ 1969 Malibu Sport Coupe
BAL ~ Body Assembly ~ Baltimore, Maryland
215320 BDY ~ Fisher Body data processing number (ID number on Body Broadcast Copy)
TR 796 ~ Aff. Midnight Green Coated Fabric (bucket seat)
63 F PNT ~ Champagne Gold, dark brown vinyl top (lower-upper)
03B ~ Body Date - March 1st week
B ~ See Baltimore trim tag properties
L ~ This Malibu does have the "L" code letter on the plate but no other documentation is currently available to prove it is an SS-optioned Chevelle.
144 ~ unknown
069 ~ trim inspection sequence number found on trim card
---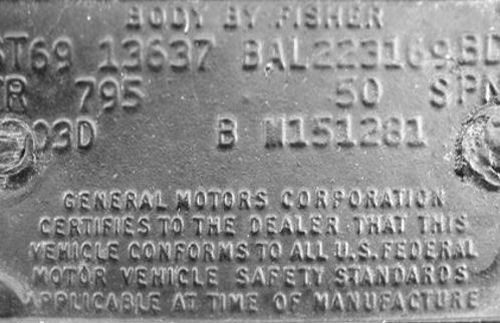 ST 69 13637 ~ 1969 Malibu Sport Coupe
BAL ~ Body Assembly ~ Baltimore, Maryland
223169 BDY ~ Fisher Body data processing number (ID number on Body Broadcast Copy)
TR 795 ~ Aff. Midnight Green Coated Fabric (bench seat)
50 S PNT ~ Dover White, midnight green vinyl top (lower-upper)
03D ~ Body Date - March 4th week
B M ~ See Baltimore trim tag properties
151 ~ unknown
281 ~ trim inspection sequence number found on trim card
Car is being represented as an SS-optioned Chevelle but no further documentation
---
Courtesy Tom Rightler
3 ~ Body cradle number
ST 69 13469 ~ 1969 300 Deluxe 4-Door Sedan
BAL ~ Body Assembly ~ Baltimore, Maryland
232477 BDY ~ Fisher Body data processing number (ID number on Body Broadcast Copy)
TR 786 ~ Medium Green Ransom Cloth, Coated Fabric (bench seat)
59 59 PNT ~ Frost Green (lower-upper)
04A ~ Body Date - April 1st week
159 ~ unknown
624 ~ trim inspection sequence number found on trim card
---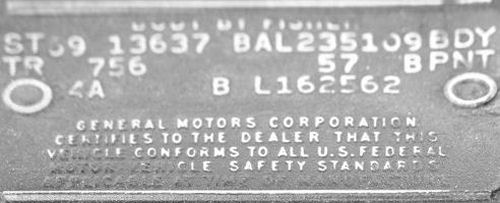 (verified SS)
ST 69 13637 ~ 1969 Malibu Sport Coupe
BAL ~ Body Assembly ~ Baltimore, Maryland
235109 BDY ~ Fisher Body data processing number (ID number on Body Broadcast Copy)
TR 756 ~ Black Coated Fabric (bucket seat)
57 B PNT ~ Fathom Green, black vinyl top (lower-upper)
04A ~ Body Date - April 1st week
B ~ See Baltimore trim tag properties
L ~ This Malibu does have the "L" code letter on the plate but no other documentation is currently available to prove it is an SS-optioned Chevelle.
162 ~ unknown
562 ~ trim inspection sequence number found on trim card
---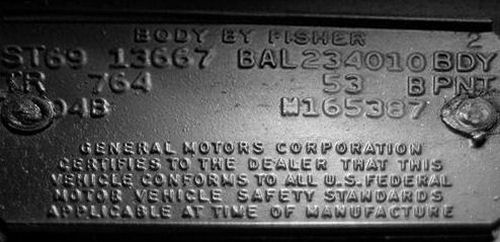 (verified as not being SS optioned)
2 ~ Body cradle number
ST 69 13667 ~ 1969 Malibu Convertible
BAL ~ Body Assembly ~ Baltimore, Maryland
234010 BDY ~ Fisher Body data processing number (ID number on Body Broadcast Copy)
TR 764 ~ Metallic Dark Blue Coated Fabric (bench seat)
53 B PNT ~ Glacier Blue, black convertible top (lower-upper)
04B ~ Body Date - April 2nd week
M ~ See Baltimore trim tag properties
165 ~ unknown
387 ~ trim inspection sequence number found on trim card
---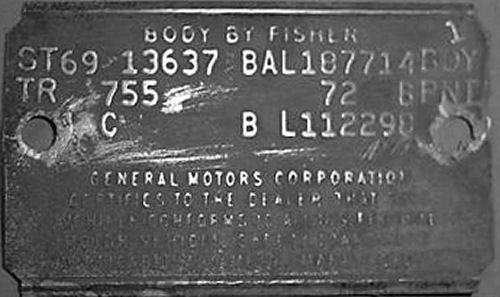 Found being sold on eBay on 02/02/2009
1 ~ Body cradle number
ST 69 13637 ~ 1969 Malibu Sport Coupe
BAL ~ Body Assembly ~ Baltimore, Maryland
187714 BDY ~ Fisher Body data processing number (ID number on Body Broadcast Copy)
TR 755 ~ Black Coated Fabric (bench seat)
72 B PNT ~ Monaco/Hugger Orange, black vinyl top (lower-upper)
04C ~ Body Date - April 3rd week
B ~ See Baltimore trim tag properties
L ~ This Malibu does have the "L" code letter on the plate and only paint code documentation is currently available to prove it is an SS-optioned Chevelle.
112 ~ unknown
290 ~ trim inspection sequence number on trim card
---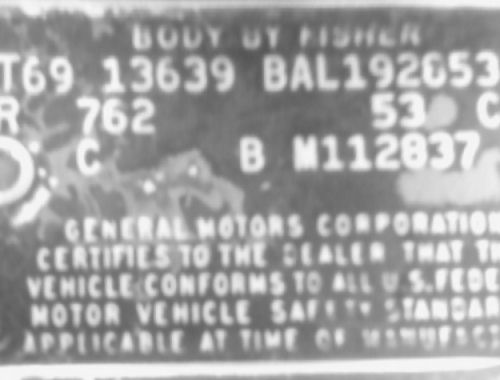 ST 69 13639 ~ 1969 Malibu Sport Sedan
BAL ~ Body Assembly ~ Baltimore, Maryland
192853 BDY ~ Fisher Body data processing number (ID number on Body Broadcast Copy)
TR 762 ~ Dark Blue Rior-Richmond Cloth (bench seat)
53 C PNT ~ Glacier Blue, dark blue vinyl top (lower-upper)
04C ~ Body Date - April 3rd week
B M ~ See Baltimore trim tag properties
112 ~ unknown
837 ~ trim inspection sequence number on trim card
---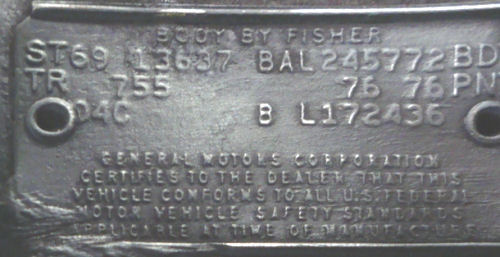 Courtesy John Barber
ST 69 13637 ~ 1969 Malibu Sport Coupe
BAL ~ Body Assembly ~ Baltimore, Maryland
245772 BDY ~ Fisher Body data processing number (ID number on Body Broadcast Copy)
TR 755 ~ Black Coated Fabric (bench seat)
76 76 PNT ~ Daytona Yellow (lower-upper)
04C ~ Body Date - April 3rd week
B ~ See Baltimore trim tag properties
L ~ This Malibu does have the "L" code letter on the plate and only paint code documentation is currently available to prove it is an SS-optioned Chevelle.
172 ~ unknown
436 ~ trim inspection sequence number on trim card
---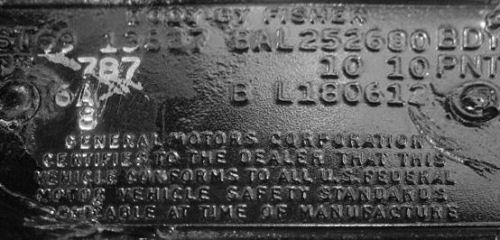 ? ~ Body cradle number
ST 69 13637 ~ 1969 Malibu Sport Coupe
BAL ~ Body Assembly ~ Baltimore, Maryland
252680 BDY ~ Fisher Body data processing number (ID number on Body Broadcast Copy)
TR 787 ~ Medium Red Coated Fabric (bench seat)
10 10 PNT ~ Tuxedo Black (lower-upper)
06A ~ Body Date - June 2nd week
B ~ See Baltimore trim tag properties
L ~ This Malibu does have the "L" code letter on the plate but no other documentation is currently available to prove it is an SS-optioned Chevelle.
180 ~ unknown
612 ~ trim inspection sequence number found on trim card
8 ~ unknown
---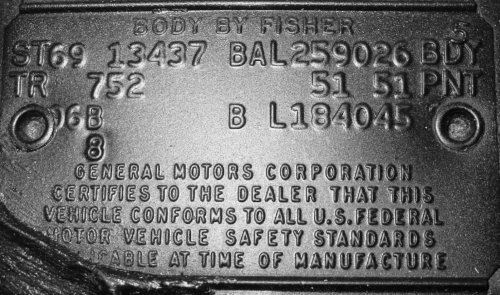 Courtesy Jim Krominga - reported SS
5 ~ Body cradle number
ST 69 13437 ~ 1969 300 Deluxe Sport Coupe
BAL ~ Body Assembly ~ Baltimore, Maryland
259026 BDY ~ Fisher Body data processing number (ID number on Body Broadcast Copy)
(59026, without the leading '2', is identified on punch card)
TR 752 ~ Black Pattern Coated Fabric/Coated Fabric (bench seat)
51 51 PNT ~ Dusk Blue (lower-upper)
06B ~ Body Date - June 2nd week
B ~ See Baltimore trim tag properties
L ~ This Malibu does have the "L" code letter on the plate but no other documentation is currently available to prove it is an SS-optioned Chevelle.
184 ~ unknown
045 ~ trim inspection sequence number found on trim card
8 ~ unknown
---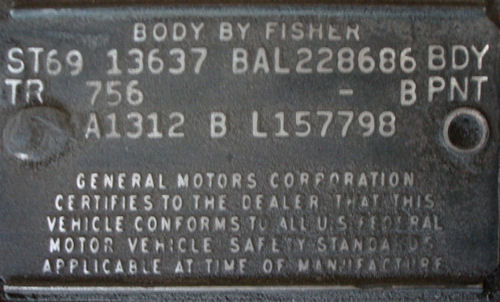 ST 69 13637 ~ 1969 Malibu Sport Coupe
BAL ~ Body Assembly ~ Baltimore, Maryland
228686 BDY ~ Fisher Body data processing number (ID number on Body Broadcast Copy)
TR 756 ~ Black Coated Fabric (bucket seat)
PNT ~ - B (SP3 special paint) black vinyl top (lower-upper)
06A ~ Body Date - June 1st week
1312 ~ F&SO code
B ~ See Baltimore trim tag properties
L ~ This Malibu does have the "L" code letter on the plate but no other documentation is currently available to prove it is an SS-optioned Chevelle.
157 ~ unknown
798 ~ trim inspection sequence number found on trim card
---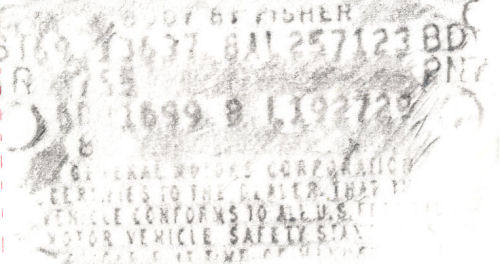 Courtesy Jason Blazas
6 ~ Body cradle number
ST 69 13637 ~ 1969 Malibu Sport Coupe
BAL ~ Body Assembly ~ Baltimore, Maryland
257123 BDY ~ Fisher Body data processing number (ID number on Body Broadcast Copy)
TR 755 ~ Black Coated Fabric (bench seat)
PNT ~ SP3 special paint (lower-upper)
06D ~ Body Date - June 4th week
1699 ~ F&SO code; this car is Rallye Green (79) according to owner
B ~ See Baltimore trim tag properties
L ~ This Malibu does have the "L" code letter on the plate but no other documentation is currently available to prove it is an SS-optioned Chevelle.
192 ~ unknown
729 ~ trim inspection sequence number found on trim card
8 ~ unknown
---
6 ~ Body cradle number
ST 69 13637 ~ 1969 Malibu Sport Coupe
BAL ~ Body Assembly ~ Baltimore, Maryland
275522 BDY ~ Fisher Body data processing number (ID number on Body Broadcast Copy)
TR 756 ~ Black Coated Fabric (bucket seat)
10 10 PNT ~ Tuxedo Black (lower-upper)
06D ~ Body Date - June 4th week
B ~ See Baltimore trim tag properties
L ~ This Malibu does have the "L" code letter on the plate but no other documentation is currently available to prove it is an SS-optioned Chevelle.
195 ~ unknown
339 ~ trim inspection sequence number found on trim card
8 ~ unknown
---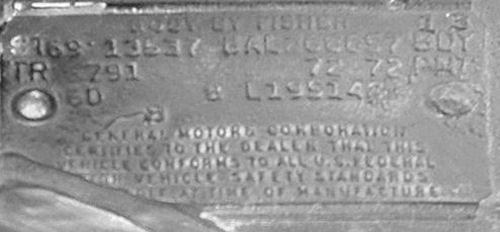 13 ~ Body cradle number
ST 69 13637 ~ 1969 Malibu Sport Coupe
BAL ~ Body Assembly ~ Baltimore, Maryland
266657 BDY ~ Fisher Body data processing number (ID number on Body Broadcast Copy)
TR 791 ~ Aff. Parchment Coated Fabric (black carpet, etc.) (bucket seat)
72 72 PNT ~ Monaco/Hugger Orange (lower-upper)
06D ~ Body Date - June 4th week
B ~ See Baltimore trim tag properties
L ~ This Malibu does have the "L" code letter on the plate but no other documentation is currently available to prove it is an SS-optioned Chevelle.
195 ~ unknown
14x ~ trim inspection sequence number found on trim card
8 ~ unknown
---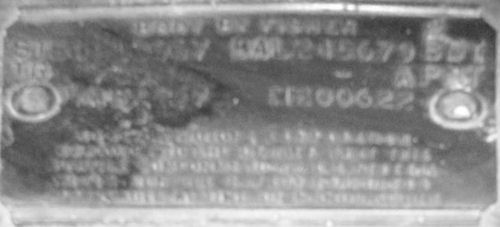 ST 69 13667 ~ 1969 Malibu Convertible
BAL ~ Body Assembly ~ Baltimore, Maryland
245679 BDY ~ Fisher Body data processing number (ID number on Body Broadcast Copy)
TR 790 ~ Aff. Parchment Coated Fabric (bench seat)
- A PNT ~ Special Order Paint, white convertible top (lower-upper)
07A ~ Body Date - July 1st week
B ~ See Baltimore trim tag properties
200 ~ unknown
622 ~ trim inspection sequence number found on trim card
---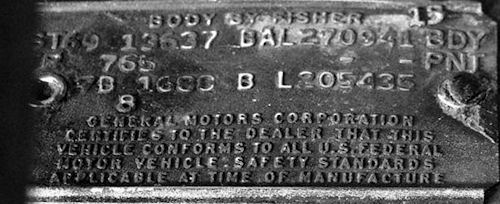 15 ~ unknown
ST 69 13637 ~ 1969 Malibu Sport Coupe
BAL ~ Body Assembly ~ Baltimore, Maryland
270941 BDY ~ Fisher Body data processing number (ID number on Body Broadcast Copy)
TR 765 ~ Metallic Dark Blue Coated Fabric (bucket seat)
- - PNT ~ Special Paint (lower-upper)
07D ~ Body Date - July 4th week
1688 ~ F&SO code; final color commonly known as Carolina Blue
B ~ See Baltimore trim tag properties
L ~ This Malibu does have the "L" code letter on the plate but no other documentation is currently available to prove it is an SS-optioned Chevelle.
205 ~ unknown
435 ~ trim inspection sequence number found on trim card
8 ~ unknown
See car

---
(verified SS)
11 ~ Body cradle number
ST 69 13637 ~ 1969 Malibu Sport Coupe
BAL ~ Body Assembly ~ Baltimore, Maryland
273227 BDY ~ Fisher Body data processing number (ID number on Body Broadcast Copy)
TR 756 ~ Black Coated Fabric (bucket seat)
67 67 PNT ~ Burgundy (lower-upper)
07D ~ Body Date - July 4th week
B ~ See Baltimore trim tag properties
L ~ This Malibu does have the "L" code letter on the plate and other documentation is currently available to prove it is an SS-optioned Chevelle.
215 ~ unknown
528 ~ trim inspection sequence number found on trim card
8 ~ unknown
---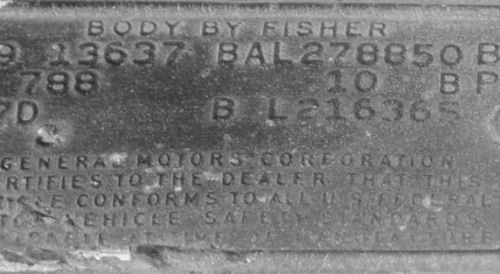 (verified SS)
ST 69 13637 ~ 1969 Malibu Sport Coupe
BAL ~ Body Assembly ~ Baltimore, Maryland
278850 BDY ~ Fisher Body data processing number (ID number on Body Broadcast Copy)
TR 788 ~ Medium Red Coated Fabric (bucket seat)
10 B PNT ~ Tuxedo Black, black vinyl top (lower-upper)
07D ~ Body Date - July 4th week
B ~ See Baltimore trim tag properties
L ~ This Malibu does have the "L" code letter on the plate and other documentation is currently available to prove it is an SS-optioned Chevelle.
216 ~ unknown
365 ~ trim inspection sequence number found on trim card
8 ~ unknown
Build sheet
---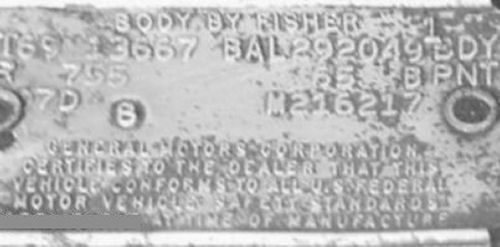 1 ~ Body cradle number
ST 69 13667 ~ 1969 Malibu Convertible
BAL ~ Body Assembly ~ Baltimore, Maryland
292049 BDY ~ Fisher Body data processing number (ID number on Body Broadcast Copy)
TR 755 ~ Black Coated Fabric (bench seat)
65 B PNT ~ Olympic Gold, black vinyl top (lower-upper)
07D ~ Body Date - July 4th week
M ~ See Baltimore trim tag properties
216 ~ unknown
217 ~ trim inspection sequence number found on trim card
8 ~ unknown